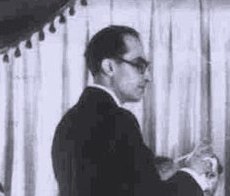 Translated by Mahboube Khalvati
Rouhollah Khaleghi was the master of composing beautiful melodies. He was the premier of the course of history which was first established by Ali Naghi Vaziri and which improved the Iranian music from simply a gathering music to the classical music of the country. First efforts to compose independent and instrumental music can be also traced in Khaleghi's works.
Pursuant to Vaziri's activities, Khaleghi managed to incarnate attractive capacities of mahour, rast panjgah and other dastgahs of Iranian music in orchestral compositions. He developed the Iranian music to the extent that today the Iranian composers can draw on its dramatic diversity. Appropriate use of instruments and their employment in a way that represent special and various human feelings was one of the most significant measures which was introduced by Khaleghi's efforts. It was Khaleghi who established a musical ambience which resulted in the emergence of composers able to create various works.
Khaleghi knew very well that a lively and rich art necessitates moral genealogy on the part of its creator. Khaleghi realised how the absence of values of the Iranian music in our culture has tragically constructed an ill structure for closed-circle gatherings of short-sighted people unable to think. He tried his best to solve such problems of music and use this opportunity for the sake of a valuable and wise presence. For the same reason, Khaleghi paid a great attention to moral genealogy of students he audited for music school. Khaleghi and Abolhassan Saba are the pillars of reviving the Iranian national music. Two pillars which have Vaziri at their foundation; a musician who blew the spirit of Constitutional Revolution into our music and paved the ground for the activities of enthusiastic young artists such as Khaleghi and Saba. These three artists redirected our country's national music to a path that will never turn into an area for prejudiced people's manoeuvrings. Today, we have masters like Javad Maroufi, Hossein Dehlavi, Farhad Fakhredini, Kambiz Roshan Ravan and Faramarz Payvar who were educated in the afore-mentioned national Iranian music school. An artist like Faramarz Payvar added more styles to the school.
The influence of this school on Iranian music was even evident vis-à-vis the opponents of the school. When the traditional school of music, which was inclined towards reviving Qajari style, had to offer orchestral works as necessitated by the requirements of the Revolution, it had to draw on the achievements of the national music school for orchestration. This incident proves that Iranian national music school could even meet the basic needs of its opponents as well.
As a result of this, in contemporary Iran, we have a new generation of composers who seek to complete efforts by previous groups. Composers such as Mohammad Reza Darvishi, Kazem Davoudian, Peyman Soltani, to name but a few, are the artists whose activities not only strengthen the Iranian composers' styles but also can lead to the emergence of new styles in the country's art through avant-garde experiences.
Rouhollah Khaleghi is the first professional national Iranian composer. Let us hope that the initiative Khaleghi took lead to the creation of more musical styles and make Iranian music influential beyond Iranian borders.