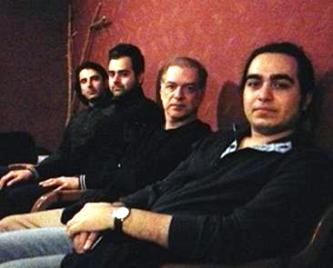 Establishing O.R.P. Quartet is Kayvan Mirhadi's latest activity as a guitarist, composer and conductor of Kamerata Orchestra. Besides working with this Quartet, Mirhadi is busy these days recording and mixing some of his own works as well as some pieces by 20th century composers. O.R.P Quartet performed a concert in Rasht, Gilan Province in late May 2016 and offered a master class.
A description of the establishment and the performance of the orchestra along with its members brief biographies follows:
Ordinary Routine People Quartet (O.R.P Quartet)
Kayvan Mirhadi: Classical Guitar
Amin Nili: Double Bass
Farzam Hassani: Drums
Matin Ladani: Piano
O.R.P quartet was founded in 2013 to perform French Claude Bolling's Guitar Concerto exclusively. Kayvan impressed by this work began to work on his first album in exactly the same ensemble of Bolling's. So he released an experimental – Jazz "LIKOO" through the label "OIDO records" in 2013.
Matin (24) is the youngest among us and is originally a superb classical pianist and the winner of the first prize of "International Fadjr Music Festival". Farzam (25) is a CEO of a Tour Agency and holds a degree in engineering. Amin (31) is an IT expert who has been focusing on playing double bass. He plays guitar as well as the double bass. Kayvan (56) holds an M.A. in arts research methodology and is the eldest member of the Orchestra. Kayvan is former professor at various Iranian universities and music colleges. He is considered as a member of the second generation of Iranian classical guitarists.
Claude Bolling's Guitar concerto is one of the best examples amongst its peers. The trend was popular during 60s and 70s in Europe and although the neo classical approach is being merged with Jazz, Blues and Swing but the catchy hybrid ambient is unique. It is interesting to know that the other Bolling's works which he wrote for the best performers of the time convey a "suite" title and not a "concerto". Virtuosos like J.P.Rampal, M. Andre, YoYo Ma and P. Zukermasn collaborated for the recordings of the suites along with Bolling.
The guitar concerto is dedicated to the late "Alexandre Lagoya" then the Spaniard Guitarist Angel Romero instigated the "Finale" and finally the seven – part concerto was officially released in 1978.
Hoagland Carmichael (US/1899-1981) along with Duke Ellington and Scott Joplin is one of the three greatest American Jazz musicians of the 20th century. His career was divided into three main and influential periods. "Hoagy" a Jazz Maniac, first released his album with Louise Armstrong. He spent the second period of his life in Georgia, south east of the US where he was wandering with the great musicians.
The album "Under the Missouri Sky" is one of the memorable and extrovert of the kind of Pat Metheny and late Charlie Haden. It contains a series of amazing duos for double bass and guitar. It is worth mentioning that the prominent flamenco guitarist "Tomatito" also has an impressive and warm version of this track.
Born in the US Andrew York (60) is still performing world class and releases his videos and tracks. There was a time when "John Williams" performed his "sunburst" and after that Andy was popular around the world. He has been performing and composing in L.A quartet for a while and his compositions are standards in classical guitar repertoire and music festivals.