Translated by Mahboube Khalvati
The term "School of Vaziri" is often used in writings on Iranian music, but the exact meaning of the term is not clear; some of the authors have used the term to only refer to the group of Vaziri's students, including a large group of his conservatory students and his Tar students such as Abolhassan Saba, Rouhollah Khaleghi, Ahmad Foroutan Rad, Hossein Sanjari, Heshmat Sanjari and others. But can we consider all Ali Naghi Vaziri's students as followers of his school of thought? This is definitely a mistake, because we know that some of Vaziri's students have chosen a completely different path than that of his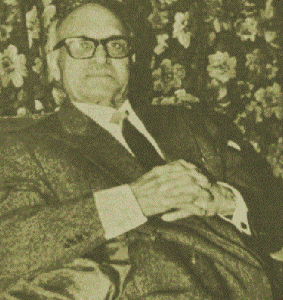 .
From this last statement, it can be concluded that Vaziri's "method" represents his school of thought and is not used to refer to his students.
Now what is this method?
To clarify this issue, we must first evaluate Mr. Vaziri's unique projects[i] and identify those who remained loyal to them:
1-  Introducing the Iranian music as a sub-branch of classical music: Vaziri did not believe in the separation of Iranian music from Western classical music and believed that the scientific rules of music do not recognize any borders. This belief led him to draw on all the capacities of the Western classical music, from educational techniques and stage etiquette to its theoretical background, in order to reach his ideal level in the Iranian music.
2-  24 Equal temperaments (quarter tone): To standardize the intervals in the Iranian music, Vaziri proposed the use of 24 quarter tones, which was introduced in ancient Greece (and among Turks and Arabs), for Iranian music. This method made it possible to make Iranian music modes from 24 quarters, and with this method, there was no need for limited use of modulations in Iranian music.
3-  The proposal to harmonize Iranian music with the tierce method: Vaziri who strongly believed in the modal similarity of the Iranian music with the Western music wrote a book on harmonizing Iranian music in which he used the method of tierce harmony (or academic harmony) for making the Iranian music polyphonic.
4-  Dividing the main modes of Iranian music into 5 Dastgahs on the scale: in order to clarify the confusing situation in teaching modal systems of Iranian music to composers, Vaziri suggested that the Iranian music be represented by five dastgahs showed on the scale.
By reviewing the writings of Iranian musical writers and critics published in Persian-language magazines, we find pieces by followers of Vaziri who do not believe in some of the points made in this article; however, all of them believe in the first point which was mentioned above. In other words, they lack of belief thereof amounts to their abandonment of the school of Vaziri.  By not believing in the fact that Iranian music is a sub-branch of Western classical music can pose serious challenges to Vaziri's consequent suggestions[ii].
None withstanding, it should be asserted that all the musicians who believe in a classical approach to the Iranian music can be considered as Vaziri's followers[iii]. An important question is therefore raised: did such an approach to the Iranian music exist before Vaziri? The answer is: Yes. A brief look at old Iranian musical writings[iv] proves that such an approach to the Iranian music has a long history and was in fact revived by Vaziri[v].
Finally, it can be added that "Vaziri's school" is not a scientific term with clear characteristics and in fact the four above-mentioned characteristics guides us toward the leader of this movement.
Footnotes:
[i] Vaziri designed many projects which are not studied in this article; among these one can refer to teaching choir singing at schools, teaching aesthetics, etc.
[ii] When a piece of music cannot be classified as classical, it must be categorized as folkloric or popular then. If it is categorized as folkloric (as some musicians believe), it should only preserve relevant traditions. It is, therefore, meaningless to introduce modifications to it. If it falls under popular music, there is no need for making it standard and law-binding.
[iii]  Some Iranian musicians disagree with the combination of Iranian music (especially using its instruments and modes) with the culture of classical music and believe that the Iranian music must be preserved as a folk or traditional music. They further believed only some modal features and rhythmic pattern of Iranian music must be used to compose in the style of classical music (which was called scientific music). Despite this, one cannot distinguish between their works and works composed by the followers of Vaziri's school.
[iv] We also face a challenge here for defining the Iranian music. By Iranian music in this article, we mean the music which similar to the music of dastgah and is practiced in the current borders of Iran.
[v] Even Vaziri's tutors cannot be totally left out of the classical music culture. As a matter of fact, Vaziri's difference with Darvish Khan is in their seriousness in promoting this culture.