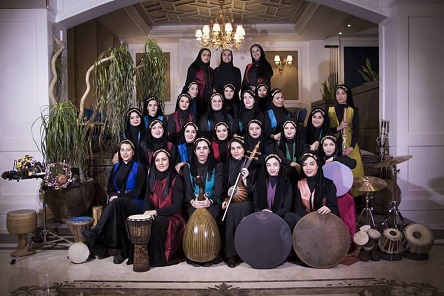 Avaye Naerika Percussion Orchestra is an Iranian percussion orchestra featuring 40 lady percussionists. The Orchestra was established as Iran's largest all-female percussion orchestra in 2008 by Ms. Minoo Rezaei under the title Naerika Percussion Orchestra and changed its name to Avaye Naerika in 2017.
In the Pahlavi Persian language, Naerika means a prominent woman. As implied by its name, the Orchestra has been successful in bringing together prominent female percussionists who are committed to promote percussion music. Minoo Rezaei who conducts the orchestra is a Daf player and composes the pieces which Avaye Naerika performs.
One of the main missions of the Orchestra is to show the capabilities of Iranian lady musicians in performing percussion instruments and to demonstrate their knowledge of rhythms. Drawing on the virtuosity of its percussionists, the Orchestra has successfully achieved one of its most important goals which is to establish the effective relationship that percussion instruments can make with their audience.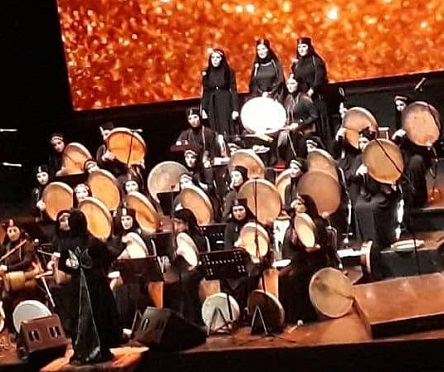 The style which Avaye Naerika pursues is a combination of percussion instruments, vocalists and in some parts bowed string instruments and plucked string instruments. The group also tries to establish a common language by combining folk and ethnic cultures through music. Visual effects are also used during Avaye Naerika's performances to create an ambience which is conducive to a better reception of the music.
Since its very first concert at Tehran's Vahdat Hall in 2011, the Orchestra was well received by the audience and their enthusiasm has led to frequent concerts in Tehran and other cities in Iran. Avaye Naerika Orchestra has also performed in Istanbul, Turkey and is the first all-female percussion orchestra which was invited to "The Drum Cafe" festival in Kenya which is held annually.
Avaye Naerika has been performing pieces in collaboration with male percussionists in different concerts. A piece entitled "Dialogue" composed by Minoo Rezaei involves a musical dialogue between male and female percussionists.
Bowed string instruments such as the Kamancheh and plucked string instruments such as the Oud accompany the percussion orchestra for pieces such as "the Sea" and regional Iranian pieces like Kordi and Lori pieces.
Avaye Naerika Orchestra uses instruments such as Daf, Dayereh, Tonbak, Tabla and Darbuka and instruments such as spring drum, wood block, singing ball, egg shaker, etc. to create sound effects.
Avaye Naerika's latest concert was held at Vahdat Hall on February 26, 2019.