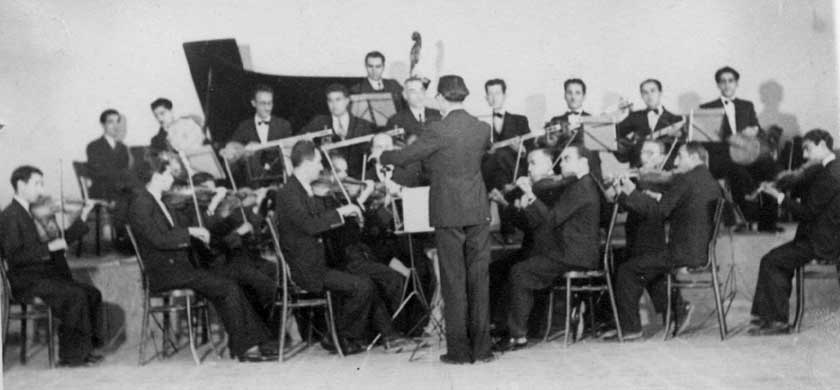 Translated by Mahboube Khalvati
One of his works was the translation of Harmony, which was carried out with the help of Mozayyan al-Dowleh, and included a pamphlet based on which he used to teach the subject to the students of the school of music; the pamphlet was never published. It was, in fact, a kind of simple harmony for the piano with no quadriads, it rather featured the engagement of both the right hand and the left hand which was being taught at the music school for the first time. Salar-Mo'azez also composed military marches and hymns for schools, which he harmonized to be performed and piano. Likewise, he used to compose for military orchestras.
Some musical pieces by Salar-Mo'azez are available in the library of the National Conservatory of Music including a piece entitled "Maour Fantasy" and several "pish daramad"s (overtures) and "reng"s.
It is worth mentioning that in the composition of the above-mentioned pieces, the intervals of the Iranian music, i.e. quartertones, are eliminated and are replaced with half tones. Salar-Mo'azez intentionally selected Mahour and Esfahan modes so that the removal of quartertones does not cause any flaws in the pieces.
However, at the very beginning of the process of harmonizing Iranian music, two faults occurred. Firstly, no attention was paid to the selection of specifically Iranian modes and scales and, therefore, no method of harmony which is appropriate for the Iranian music was deviseds.
Secondly, in general, the harmony is too simple and is actually written for a brief piano accompaniment. This method was adopted by the music school graduates. Additionally, the issue of harmonizing other specifically Iranian modes was not taken into concentration.
When Mr. Ali Naghi Vaziri returned to Iran in 1923 and founded High Conservatory of Music in Tehran, he first decided to recompose Persian music pieces, without causing any defect in their original form by keeping their original intervals. The task was not without faults when it came to Shour and Segah modes, Vaziri, however, conducted the experiment.