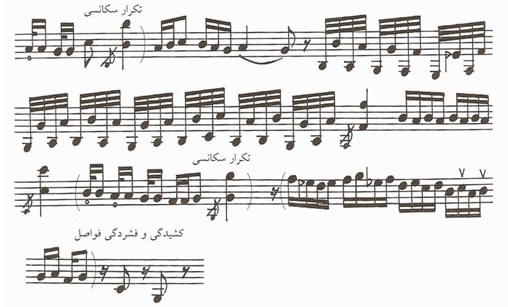 By Pouria Nasiri and Sadjad Pourghanad
The mention by music instructors, academicians, students, and music enthusiasts about the lack of development in Iranian music is a topic that has been repeatedly heard, resulting in a superficial understanding and misinterpretation of Iranian music, which has been conveyed to students of the arts. This short essay aims to critique and examine this claim.
Firstly, the term "Iranian music" or "music of Iran" must be defined, as it encompasses a wide range of music from different regions of Iran, classical Iranian music, Iranian pop music, and more. Since there is development and expansion in various areas of Iranian music, it is necessary to use the term "Iranian music repertoire" instead of a vague expression.
Secondly, there are numerous examples where the Iranian music repertoire has been utilized for music material extraction, followed by its development and expansion. For instance, we can mention compositions by Ahmad Pejman, Hossein Dehlavi, Kambiz Roshanravan, and Hossein Alizadeh.
Thirdly, within the Iranian music repertoire (regardless of whether it is vocal or instrumental or told through a particular narrative), there exists a level of development and expansion in various aspects. One of the most important tools in this regard is the use of sequences, which plays a significant role in form and composition. Additionally, the extensive use of sequences in various modes such as Hesam, Khorasani, Khorshidi, Razavi, and Khavaran, among others, makes the claim of a lack of development and expansion in Iranian music unacceptable.
Furthermore, development and expansion are not solely achieved through sequencing but also through rhythmic, melodic, or rhythmic-melodic variations in the presented materials. For example, the introduction section (daramad) of Dashti vocal repertoire in the interpretation of Mirza Abdullah Boroumand showcases this. Moreover, the use of repetition (in literal, variational, or duplum forms) to strengthen the developmental process can be cited as a stage of expansion and development, countering the claims made.
Therefore, based on the aforementioned points, it is essential for music instructors and students to pay more attention to their interpretations of the position and characteristics of the Iranian music repertoire. By giving proper respect to this cultural and artistic foundation, they can make appropriate use of its capacities.