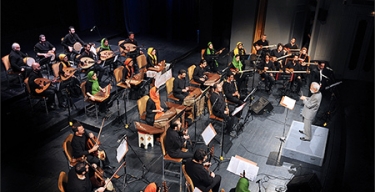 Santour:
Nine-bridge and twelve-bridge Sanours were both used until the early Pahlavi dynasty. However, as Faramarz Payvar devised new methods for playing the nine-bridge Sanour, this variety of the instrument which was hammered by felted sticks became popular.
In 1980, Ebrahim Ghanbari Mehr invented the chromatic Sanour upon Hossein Dehlavi's suggestion and later on alto Sanour as well as bass Sanour were also designed.
Today, a variety of ordinary, alto, bass and chromatic Sanours are produced.
Ney:
Ney is one of the most ancient Iranian instruments which is play in the border areas of Iran specially. Ney is majorly played in Iran using the inter-dental technique while the lip technique is dominantly used in the Iran's neighbouring countries. Ney did not go through much change up until it appeared in Iranian instrument orchestras directed by Faramarz Payvar. However, in order to facilitate its playing and to rectify some problems for playing some songs, Hossein Omoumi added one hole and one node.
Kamancheh:
Kamancheh is one of the most ancient Iranian instruments which dates back to 950 A.D. The instrument had three silk strings; however, at the end of the Qajar dynasty, another string was added to Kamancheh copying the number of violin strings.
Gheychak:
Gheychak is an Iranian folk instrument which used to be specifically popular in South East Iran. In the 1960s, the Ministry of Culture and Arts commissioned Ebrahim Ghanbari Mehr to design and make a family of instruments like the violin family for Gherychak as well. Inspired by the instrument's folk pattern, Ghanbari Mehr designed Gheychak with four strings the also variety of which is very common nowadays.
Tonbak:
Tonbak is also one of the instruments which did not change remarkably between the Qajar and the contemporary eras except for slight changes in the instrument's pattern. However, approximately 23 years ago, Hossein Omoumi designed and produced the tunable Tonbak.
Daf:
In 1975, Daf was included in the national instrument orchestras for the first time. In the 1990s, notwithstanding, Masoud Habibi introduced Dafs with synthetic membranes.
translated by Mahboube Khalvati