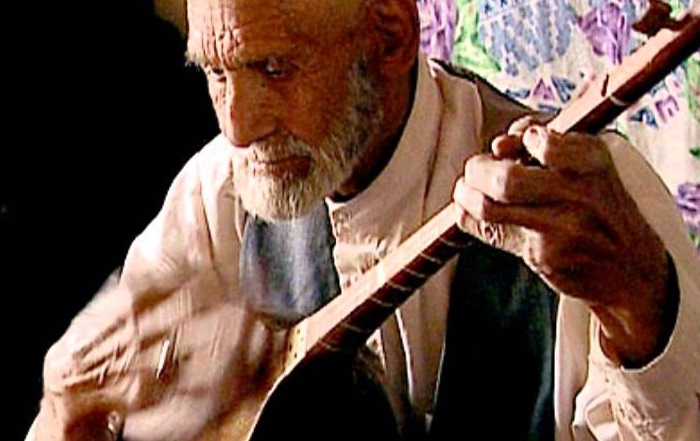 Written by Dr. M. Taghi Massoudieh (1927-1998)
Originally published in Honarhaye Ziba (Fine Arts) 3, 1998, 95-104.
Translated by Mahboube Khalvati
Two choirs alternatively perform Veŝ Tavaré Na avaz (Transcription 5). The second group starts the avaz before the first group finishes it; consequently, two different voices coincide (Transcription 5, staves 2 and 5).
In this case, also, each period consists of four melodic figures (Transcription 5, a + b + c + a staff 1).
The final figure (d, staff 1) solely repeats the last sound "la".
With regard to the last two Avazes (Arman Gol Are and Veŝ Tavaré Na, transcription 4 and 5) it is worth reviewing two theories about the evolution of polyphonic forms.
The first theory belongs to Fritz Bose[i] who believed that polyphonic forms have developed through three old forms in the alternative change of avaz between soloist and choir. These three forms are introduced below:
Choir repeats the whole lyric performed by the soloist
Choir only performs the refrain.
Half of the lyric is performed by the soloist and the other half is performed by the choir alternatively.
The coincidence of different voices due to these three old ways in the alternative change of avaz has led to the development of polyphonic forms. And drone and even ostinato have developed out of these three forms[ii].
The second theory by Marius Schneider argues that the evolution of polyphonic music is a result of heterophonic changes through the performance of a melody by several singers[iii]. This theory is rejected today. With regard to the emergence of polyphonic music, other theories are offered as well[iv].
In regard to drone, the song of Bahraini divers– despite its relation to the music of Iranian southern coasts – is studied below.
Fishing time in Bahrain is limited to two periods of the bigger dive and the cold dive. The former spans over mid-June to mid-October; while, the latter spans before this period. Anglers include navigator, divers, assistants to divers and cormorant[v].
Transcription No.6
---