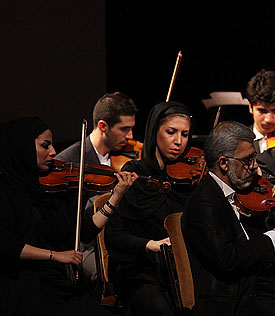 It is more than a century now that the sociologists consider the presence of women in different social domains as a benchmark for a society's progress. They analyze the presence of women in society by the means of available statistics. Unfortunately, as with regard to the Iranian society, statistics related to women's engagement, has not been available to the researchers, if they existed at all.
It is, however, important to estimate the presence of women in the domain of music. Therefore, this article seeks to estimate the number of women musicians in the large Iranian orchestras in the past three decades.
The first independent orchestra in Iran which was not affiliated to any music schools, and which complied with international standards was Baladieh (Municipality) Symphony Orchestra, established in 1934. This orchestra was conducted by Gholam Hossein Min Bashian (1907-1978). Some mistakenly consider this orchestra as Tehran Symphony Orchestra while Baladieh Orchestra's independent activity was short-lived; it was moved to Tehran Higher Conservatory of Music in 1935. Out of forty members of this orchestra, three were ladies.
Tehran Symphony Orchestra commenced its professional performances in 1941 under the baton of Parviz Mahmoud (1910 – 1996). During the long and fruitful activities of this orchestra before the 1979 Islamic Revolution, four percent of its members were lady musicians.
After the Islamic Revolution of 1979, orchestras experienced a drastic fall in the number of their female members. This trend lingered up until the nineties when the membership of the ladies in orchestras boomed. This active engagement on the part of women in orchestras, which is estimated %18, overshadows the almost all-male musicians in orchestras in the years right after the Revolution.
Saba Orchestra was founded in 1957 simultaneously with the demise of its former conductor Abol Hassan Saba (1902-1957); the orchestra was a developed version of the Fine Arts Orchestra No. 1 which was affiliated to the Ministry of Culture and Arts.  Saba Orchestra experienced several pauses and the change of its members in the course of its activities which lasted up until 1980. Based on the surviving photos of the Orchestra, the presence of women is estimated at ten percent.
Iran National Radio and Television Large Orchestra experienced a four-percent presence of women musicians during its years of activities which covered 1972-1979. Fereydoun Naseri (1930-2005), Morteza Hananeh (1923-1989), Farhad Fakhredini (b. 1937) and Mohammad Shams (b. 1954) have conducted this orchestra.
In 1998, Farhad Fakhredini convened the National Orchestra consisting of several members of the dissolved Iran National Radio and Television Large Orchestra and several young musicians. Twenty eight percent of the orchestra, which was active until 2009, was ladies. This orchestra was resurrected by Bardia Kiaras in 2010 after a year of silence.
Shiraz Hengam Orchestra was founded in 2002by Rouzbeh Tabanded who also conducted it. Hengam Orchestra, with thirteen-percent female musicians, is regarded as a prolific orchestra with annual performances in either Shiraz or Tehran every year ever since its establishment.
Parsian orchestra is another large orchestra which was founded in 2003 as a string orchestra. The orchestra which is directed by Mazyar Zahireddini was transformed into chamber orchestra in 2011. The orchestra enjoys a twenty-one-percent presence of women musicians.
It can be concluded that the number of women in large orchestras has gone through a %15.5 increase comparing the pre-Revolution %5.5  with the post-Revolution %21.5. However, identifying the social causes of such a popularity remains at the hands of the sociologists.
 Translated by Mahboube Khalvati