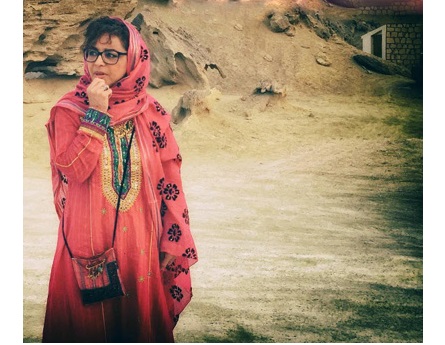 This article was originally published in Honare Mousighi Monthly in issue No. 175.
Translated by Mahboube Khalvati
Sima Bina (b. 1945) is a unique singer among the singers of Golha radio programmes which were broadcast on Iranian National Radio for 23 years from 1956 to 1979. She received her first lessons in music from her father who was a poet, a musician and the most important supporter of Sima's cultural activities. Coming from this background, Sima Bina started her career in the radio as a child and became the first serious promoter of folk music in the Iranian radio. Sima Bina was so much at the centre of attention that Davoud Pirnia launched "Golhaye Sahrai" (Flowers of the Desert) radio programmes based on her solo singing (avaz). The young Sima, however, did not confine herself to this success and studied Iranian dastgah music besides re-working Iranian folk music.
In the 1970s, in terms of signing style [1] , Sima Bina showed her abilities in singing in three different styles, namely, singing with symphony or chamber orchestras, with Iranian instrument orchestra when she performed folk music and in performing folk music she showed a very different character and avaz on the stage.

Listen to parts of Sima Bina's avaz accompanied by Mohamma Reza Lotfi's tar in Chavosh 8 album.
Sima Bina is an exceptional singer in the sense that she can change her singing style and character depending on the song she is performing. Probably Maestero Mohammad Reza Shajarian can compete with her so long as in the handful of folk songs he has performed his style and character is widely different from those he has performed with Iranian instrument orchestras and large western instrument orchestras.
Sima Bina performed the folk song

"Aziz beshin be kenarom"with Culture and Arts National Instruments Orchestra directed by Maestro Faramarz Payvar before she was even 25 years old. Her understanding of the folk song and her mastery of the music made her able to song with such a unique edition. The very same song can be the basis for sociological research on the hidden aspects of a strong rural woman's character as depicted in Sima Bina's performance of the song.
Yet, the Sima Bina who performed songs such as

"Ba bolbol sheida" composed by Hassan Yousef Zamani and Javad Maroufi with Golha Orchestra reveals the character of a modern woman raised in the context of the classical culture. The change of the environment and music also transformed her singing style and edition [2] and depicts the proper ambiance for the audience.
Performing the repertoire of Iranian dastgah music with large western and Iranian instruments, Sima Bina reveals a partially different character and style influenced by the teachings of her dastgah music masters. Moreover, her singing style is less feminine and is characterized by more tahrir.
Sima Bina's one-of-a-kind capability in singing in three different styles and singing editions lays in the fact that she always maintains a health voice in terms of the larynx anatomy and health.
Finally, I believe that observing the above-mentioned principles and having a good demeanor are the main reasons for Sima Bina's ever-lasting presence for the public opinion and among musicians.
Footnotes:
[1] Singing style refers to the shape of vocal chords while singing which can be changed by the singer according to the form of avaz he/she sings.
[2] Edit or edition is a concept in the western classical music which refers to the personal edit of the musician, either instrumentalists or singers, which is characterized by glissandos, vibrations, nuances and so on.