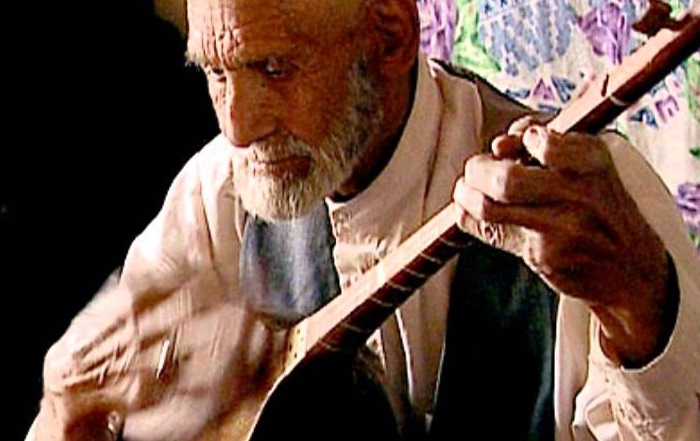 Written by Dr. M. Taghi Massoudieh (1927-1998)
Originally published in Honarhaye Ziba (Fine Arts) 3, 1998, 95-104.
Translated by Mahboube Khalvati
Abstract
Despite the fact that Iranian folk music (regional music of Iran), like the Radif of Iranian traditional music, is monophonic and follows heterophony in principal, we experience polyphonic forms, albeit, majorly unconscious. Based on the scope of the current research, these polyphonic forms are the followings:
1. The coincidence of different voices due to the alternative performance of a melody by two singers in a way that the second singer starts his Avaz before the first singer finishes singing the melody
2. Imitation due to delayed and alternative performance of a melody by several singers or performers
3. Variants of a single melody is performed by two performers (heterophonic variants)
4. Exchange of Avaz between soloist and the chorus (solo Avaz and choral Avaz) (responsorial form) or chorus and chorus (antiphoner form) leads to a coincidence of different voices as the chorus begins the next paragraph before the end of the lyric paragraph by soloist or chorus
5. Polyphony as a result of the performance of a melody by several singers in a way that each singer performs the melody based on the vocal register corresponding to his physiologic capacities
6. Accompaniment of the first voice by alternate changes to vakhan, or following ascending or descending melody in playing Timreh (Lorestan province), Dotar (Khorasan province) and Temedenra (Turkmen) leads to the conscious parallelism of two voices.
Radif of Iranian traditional and folk music, like the music of other Middle East countries, is monophonic and majorly heterophonic; meaning that a single melody is offered by two or a few performers which then changes. The change of a single melody by two or more performers or by the singer and instrumentalist, sometimes lead to the coincidence of two different voices. Coincidence or combination of two different voices in this manner is a result of heterophony and these two voices never develop a harmonic or chord relation. The coincidence of two voices or polyphonic combinations in heterophony are not predictable, moreover, due to the abstract performance of the melody by two performers, it occurs accidentally; therefore, it is not considered as polyphony (1). However, despite the dominance of heterophony in the Radif of Iranian traditional and fold music, we encounter polyphonic forms – albeit majorly unconscious.
Polyphonic forms in Iranian music, which are studied in the present study, are based on the author's researches on Iranian music especially Iranian folk music to the present. Almost all notations of the pieces under study are included in the author's all publications.
Footnote:
(1)  For a definition of heterophony see:
Massoudieh, M. Taghi. Principles of Ethnomusicology, Comparative Musicology. Soroush, Islamic Republic of Iran Publishing House, Tehran,  1986, 139-141.