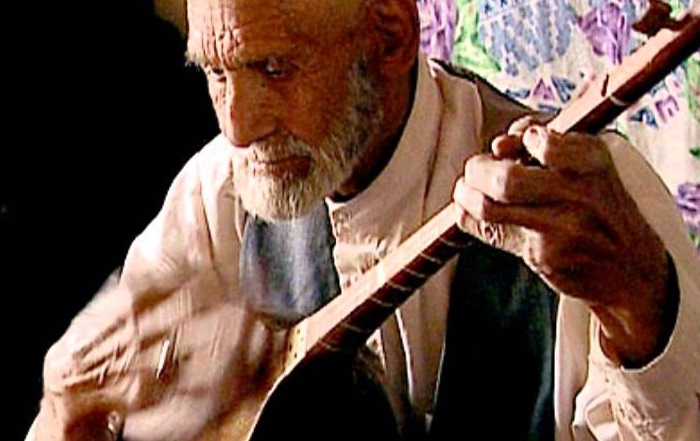 Written by Dr. M. Taghi Massoudieh (1927-1998)
Originally published in Honarhaye Ziba (Fine Arts) 3, 1998, 95-104.
Translated by Mahboube Khalvati
With regard to each polyphonic form, only one specific and distinguished example is analyzed. These polyphonic forms are as follows:
1. The coincidence of different voices due to an alternative performance by two singers.
The second singer starts singing avaz before the melody the first singer is singing is completed. This polyphonic form is especially observed in Ta'zieh as can be also seen in the notation.
Transcription No. 1
Transcription No. 1 is related to the Ta'zieh of the martyrdom of 72 Comrades which the author recorded on September 14, 1980 in Deh Abad in Meybod (around Yazd)[i].
Imam Hussein (PBUH)'s avaz (Transcription No. 1, b, staff 5) begins before Gabriel's melody (a3, staff 4) is finished. Imam Hussein's avaz then adopts a specific metre in line 6 onwards (Transcription No. 1). Specific metre of the Avaz includes irregular consequences of non-symmetrical metric-rhythmic units of 5+7+3+4/16. This consequence of non-symmetrical metric-rhythmic avaz carries relations to the howness of syllabic combination of the lyric and music. Syllabic combination of the lyric and music, has firstly facilitated the understanding of the text and strengthened its influence on the listener. The questionable or memory-evoking content of the second line of the poem (but, have you forgotten the promise of Alast Day?) obliges its melodic figures to end on E and bring about a status of uncertainty (Transcription No. 1, a2, a3, staffs 3 & 4).
Four repetitions of "Oh, Zulfiqar" in Imam Hussein's avaz result in, firstly its belonging phrase (b1 staff 6) to consist of four changes in the brief figure (b1 staff 6) and secondly the types of this figure until the middle of phrase b1 (staff 6) to be explicitly separated by a quaver rest. As the next line begins with "legacy of Heydar" or "legacy of God", a beginning figure is added to the two-type period b1 (staff 6) (b2 staff 7, b3 staff 8). The removal of the repeated melodic figure at the middle of period b3 (staff 8) is because "Oh, Zulfiqar" is performed only once at the last line. Consequently, the ascending movement of the melody at the beginning of Gabriel's avaz (a staff 1) and specially the long G voice with numerous vibrations towards frequencies higher than F (a staff 1), justifies the belonging of cutting the beginning of the line to the one which includes addressing Imam Hussein (PBUH) as "apple of Zahra's eyes".
2. Imitation
Performing a single melody by several performers or singers alliteratively or consequently forms imitation. An example of it is well known in "Soltan Qeis" episode in Imam Hussein martyrdom Ta'zieh. Ta'zieh of Imam Hussein martyrdom was recorded in Studio No. 14 of the Islamic Republic of Iran Broadcasting (IRIB) on March 1, 1984. Sultan Qeis of India and his Minister were hunting on Ashura day when they were attacked by a lion. They immediately ask Imam Hussein to help them. Their request for help is, nevertheless, rejected as even though the lion is a wild animal, it should not be killed. The rejection of their request by Imam Hussein leads them to convert to Islam[ii].
Transcription No. 2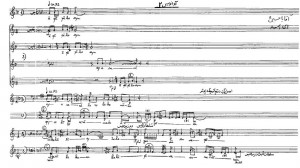 As mentioned earlier, the delay in alternative performance of the melody by Sultan Qeis, his Minister and Imam Hussein forms imitation or canon (Transcription No. 2, staff 2).
Sultan and his Minister's final lines solely include the repetition of "Master Imam Hussein" (staff 2). The beginning of Imam's line with "Oh, lion" coincides with this repetition and finally forms imitation or canon. Repetition of a single voice belongs to litany or "Oh, Hussein" prayer (Transcription 2, staff 2).