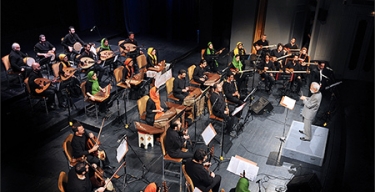 At the end of the Qajar era and as Iran entered the power transition period, known as the constitutional era, the Iranian music went through a lot of changes. These changes gained momentum as the students and followers of Ali Naqi Vaziri's entered the musical scene. These changes greatly influenced designs of instruments, playing methods, singing, composing, etc.
The evolution of Iranian instruments
Tar: Tar is the most important Iranian instrument and the specialized instrument of Shahnazi family, who were the most important narrator of the Radif. Tar used to have 5 strings up until the time of Gholam Hossein Darvish and most likely musicians held it on their chest for playing. Gholam Hossein Darvish, however, held the instrument on his right lap and copying Setar's 4th string (Hengam string) added another string to it which was always plucked together with the bass string.
Vaziri's time (who learned to play Tar under Darvish Khan), increased Tar's range by adding three quatertones frets to the end of the fingerboard. Therefore, the design of the three-octave tar was completed. Today, however, three-octave tar is seldom made. In mid-Qajar era, tar's silk strings were replaced with metal strings; up to now steel and bronze are used for tar strings.
Setar: Setar was designed copying Tanbur. Approximately 150 years ago, setar's strings were increased from three four by Mushtaq Ali Shah who was one of dervishes and instrumentalists from Kerman. This fourth string is placed next to the second sting and is plucked together with the bass string. This string is called Mushtaq or Hengam (octave). Setar has not gone through many changes in the contemporary era. Only a few setar makers made three-octave instruments which are not common to use yet. In mid-Qajar era, setar's silk strings were also replaced with steel and bronze strings.
Oud: Oud has been forgotten in Iran for many years until the Second Pahlavi period when it gradually made its way to the stage in solo performances and Iranian instruments orchestras. Later, Ebrahim Ghanbari Mehr introduced a design of oud which featured a longer fingerboard and a smaller bowl compared to Arabic ouds. Ghanbari Mehr entitled the instrument Barbat which was the oud's old name in Iran.
Qanun: Like Oud, Qanun was not played in Iran for many years, until the second Pahlavi period when the instrument was gradually recognized as a national Iranian instrument. Qanun was originally made and played exactly like Arabic qanuns; however, little by little Ebrahim Ghanbari Mehr changed the pattern and the mechanism of the bowl and the covering skin. Later on his design became popular among Iranian qanun-makers.
translated by Mahboube Khalvati