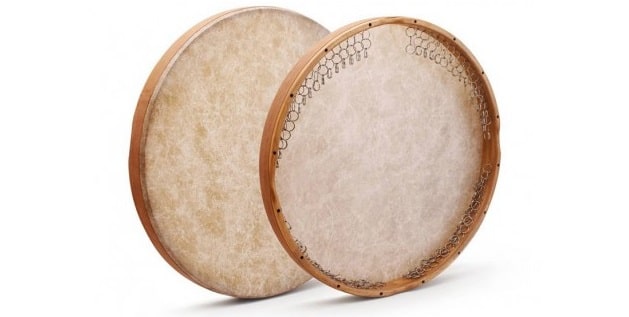 Researcher:
Mohammad Tarighat
Translator:
Fatemeh Alimohammadi
There are different definitions for the structure and sound of Daf from other aspects rooted in mythical and holy-oriented beliefs. Pahlavan says the following regarding this matter:
"Our ancestors believe powerful blows upon the Daf scatters evil spirits of disease and distress to create a clean and holy space filled with health and prosperity. Adding tools to Daf increases this instrument's purification, spreading, and summoning powers of evil forces and goddesses. Daf was mostly depicted by red, color of blood, in ancient times or sometimes it was depicted with green, the color of plants and nature. There were probably some mysterious designs painted upon the wooden body and frames of these instruments just like today" (Pahlavan, 2013: 44).
Also, Mohammad Reza Darvishi in his book entitled "Encyclopedia of Music", quoted from Ahmad Tusi, Mohammad Tusi's son, in Sama and Fotovvat, interprets Daf in relation to playing it and to Daf player: "The circle of Daf refers to the circle of the universe and the skin stretched on Daf, refers to the absolute existence and the beat on Daf, refers to the entry of divine inspirations from depths of hidden into the absolute existence and Daf player individual, is a reference to the position of truth, through which the people's soul are placed in the trap of love" (Darvishi, 2016: 396).
It is believed that Daf player extends his two hands to the sky in a state of prayer and supplication, so it is necessary to be recited with a mystical and prayerful slogan. Daf is never placed on the ground by the skin and this act is considered insulting the position of this instrument and indirectly to religious beliefs (Naqib Sardasht, 2007: 300). If Daf skin is torn during the ceremony, mystics say that the Daf has been "martyred". If the skin is prepared from Haram* animals, it is Haram to bring it to the monastery. At the end of ceremony, the Daf is kissed and hung on the wall; with the special Daf of this ceremony, frivolous and farcical melodies are never performed because it is considered a sin by the mystics. Also, these Dafs are not entrusted to persons who are not authorized to maintain it (Nasrollahpour, 1999: 78).
According to the mystics, Daf is a symbol of monastery; Daf rings, indicate number of disciples and thumb index, is the entrance of monastery. Thumb index is in a semicircular and concave form and when one holds the Daf, completes this concavity and forms a link between himself and the Daf. The Center of Daf is considered as a symbol of God (Ahmadi, 2019: 11).
Other ceremonies in which Daf and Daf playing have great value can be called "Mowludi khani", "welcoming and accompanying the religious scholars and mystics", and "welcoming pilgrims". In following, a brief explanation will be given about Mowludi and Mowludi khani.
The month of Rabi al-Aval is known among the Kurds as Mowlud month which Mowludi khani in description of the Prophet (PBUH) is the most basic program of this month. Ebrahim Moradi believes: "The Kurds believe that holding Mowludi khani ceremonies in their home, increases their livelihood and keeps pain and misery away from family members" (Moradi, 2020: 51).
The role of Daf and Daf playing in Iranian music is of special importance in three forms "solo", "accompaniment", and "group playing".
___________________
*Haram" means forbidden and anti-halal. In religious terms is something that is forbidden by God and doing it is considered a sin.