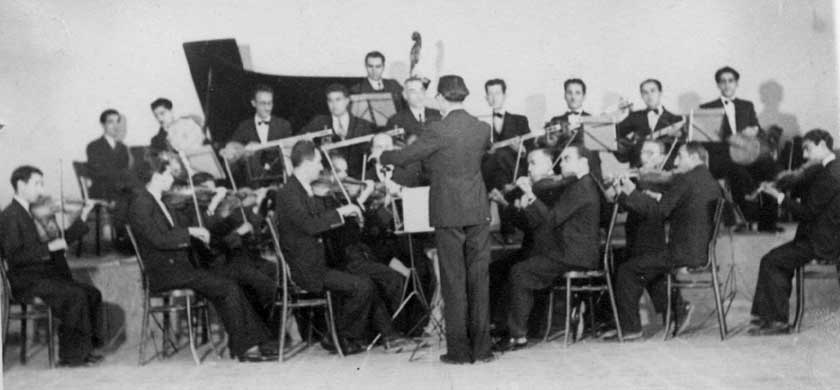 Translated by Mahboube Khalvati
The article you are about to read was written by Rouhollah Khaleqi (1906-1965), composer, and conductor of Golha Orchestra (established in 1956). Khaleqi was one of the most prominent promoters of polyphony for the Iranian music and is one of the best representatives of the school of Ali Naghi Vaziri. In this article, he reviews the history of polyphony in the Iranian music and offers his points of view:
A survey of the history of the Iranian music proves that the Iranian music has always been unison. Although in some of old Iranian books on music, the pleasant and unpleasant characteristics of intervals are discussed, it is not imaginable that "harmony" has been part of the Iranian music. However, in the Western world harmony has been experimentally applied since the tenth century B.C. and was first used in church performances and the harmonic human voice. Harmony was introduced to form orchestras and the issue of orchestral harmony emerged.
As far as I remember, the first step in harmonizing the Iranian music was taken when the French Alfred Jean-Baptiste Lemaire (1842-1907), a military musician and composer, visited Iran [in 1868]. Lemaire arranged some of the Iranian songs for the piano, which were played with the right hand and the left hand accompanied by playing some "chords". They were very simple and basic, and were then arranged by the so-called military music "technicians" for a military orchestra. I remember that when I was a child, some of these melodies and Tasnifs were performed by musicians. Some of these songs were published by Mozaffar ad-Din Shah (the fifth Qajar king of Iran, reigning from 1896 until his death in 1907) in France, a copy of which is available at the Library of the National Conservatory of Music.
Monsieur Lemaire used to teach music theory to students at Dar ul-Funun where the first book on the theory of music in Iran was compiled by the French musician's Persian language interpreter and was published by Dar ul-Funun publishing house in 1882.
In the next years, Gholam Reza Khan Minbashian, a.k.a Salar-Mo'azez, a student of Dar ul-Funun, who later graduated from military music from the Conservatory of Petrograd, was appointed as the head of the music school and followed Monsieur Lemaire's works.