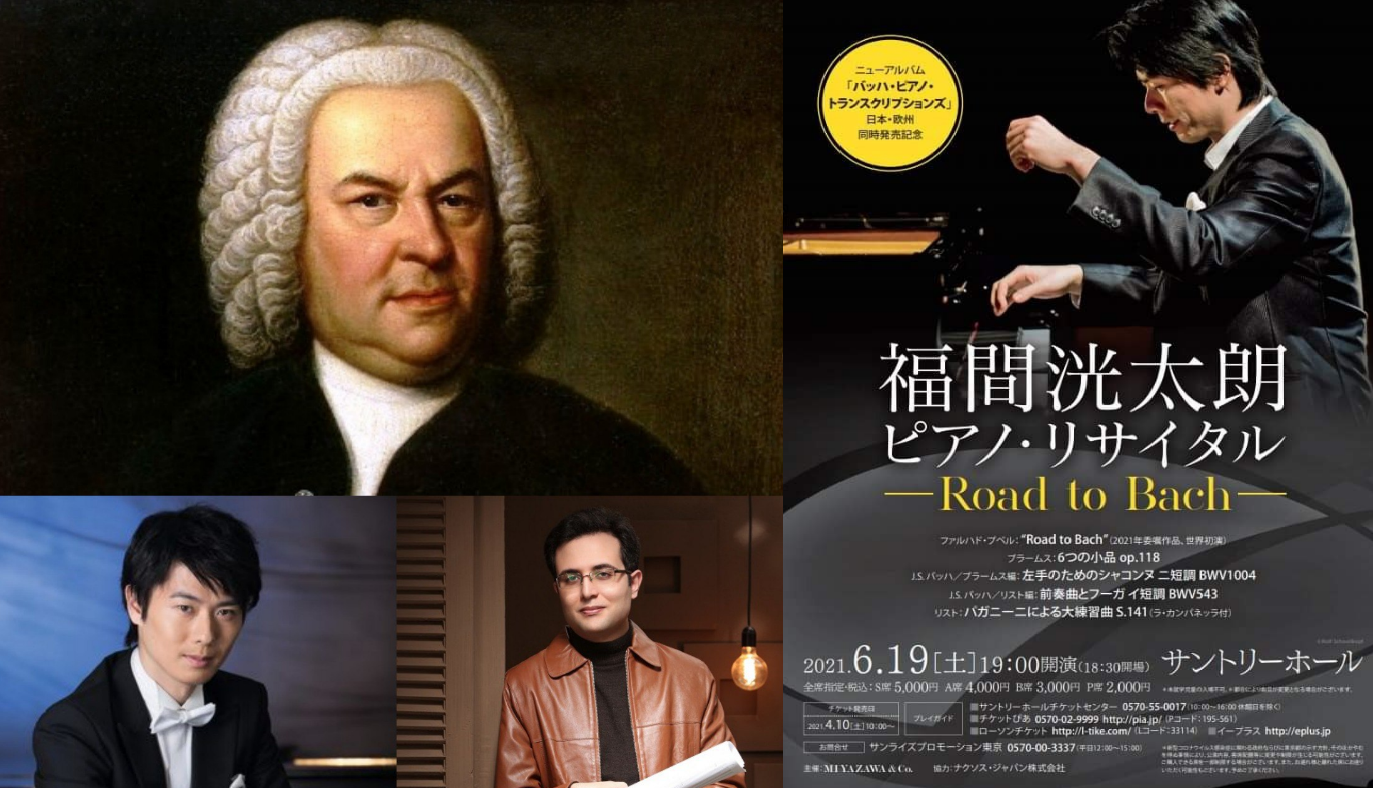 On June 19, 2021 , young Iranian composer and pianist, Farhad Poupel's piece, Road to Bach, was performed at the prestigious Suntory Hall by the great Japanese pianist, Kotaro Fukuma. The piece was commissioned by Kotaro Fukuma to have its world premiere in Suntory Hall during a concert by the same name. The concert was before the release of Mr. Fukuma's Bach transcriptions album, released by Naxos, and it tries to look at the influences that Bach music has had since.
The program included:
Farhad Poupel: "Road to Bach"
Brahms: 6 Piano Pieces, Op. 118
J. S. Bach (arr. Brahms): Chaconne in D minor, BWV 1004
J. S. Bach (arr. Liszt): Prelude and Fugue in A minor, BWV 543
List: Great Paganini Studies, S. 141
Road to Bach will be published in Japan mid-September, 2021. Composer Farhad Poupel in his interview with English pianist and author Frances Wilson said:
'The Road to Bach' was commissioned by great Japanese pianist Kotaro Fukuma for a concert of the same name in Suntory Hall, Tokyo on June 19. Approximately 3 to 4 months before being contacted by Kotaro Fukuma, I was studying Bach intensely and I was profoundly influenced by his dramatic use of harmonic and tonal language. So I've decided to write a piece which gains its movement primarily through its harmonies, but with modern harmonic language.
"…Working with Kotaro is one of the most delightful experiences of my life, even though writing this piece was quite challenging for me, especially since it was one of the most difficult times in my personal life. We had so many useful discussions regarding the work and I even changed the piece based on a good suggestion from him. The piece is quite challenging, but after he sent a video of himself performing it considerably musically, I was jubilant beyond measure since I saw all of our challenges led to this moment. And after he suggested my work be published in Japan, the sense of triumph was even greater, since this is my first publication by a publisher so far…".
The work will also have three performances in France, Including the prestigious La Roque-d'Anthéron Festival on July 25. It will also have its Belgian-premier in Flagey, Brussels on October 31.
The pianist and commissioner of this work, Kotaro Fukuma, has a career in music, including performances at Wigmore Hall, Suntory Hall and Carnegie Hall, and performances with the world's most important orchestras, including the NHK, the Finnish Radio Symphony Orchestra and the Cleveland Orchestra.
***
Farhad Poupel is described as "knowledgeable, highly competent and a serious musical thinker.it will be rewarding to follow his progress" (Simon Mundy, International festival review) and his music is described as ".. Immediately captures the audience's attention. Whether ethereal or intense, the harmonies and melodies are fused with love, passion, and colorful sonic landscape.."(Jeffrey Biegel, American Pianist)
Born in Isfahan, Iran, his music has been performed and will be performed in numerous prestigious concert halls and festivals throughout the world Such as Suntory Hall in Tokyo, Japan; La Roque-d'Anthéron Piano Festival, La Roque-d'Anthéron, France;Biarritz Festival, Biarritz, France; Stoller Hall, Manchester,UK; Janacek academy of music and performing art, Brno, Czech Republic; Karlskrona International Piano Festival, Karlskrona, Sweden; by distinguished artists such as Kotaro Fukuma, Peter Jablonski, Daniel Grimwood, Margaret Fingerhut, Catherine Carby, Kristýna Znamenáčková,Jeffrey Biegel, Jean-Francois Bouvery and orchestras such as Windsor Symphony Orchestra or broadcasted on the NPR Radio 4, Netherland
His music received critical acclaim worldwide which led to commissions such as Road to Bach for Piano by Kotaro Fukuma and The Legend of Bijan and Manijeh for Piano, Choir and Orchestra with Jeffrey Biegel, to be premiered by Windsor Symphony Orchestra.
At the age of nine, Mr. Poupel commenced his musical journey by studying the Persian Dulcimer (Santur). Soon thereafter, he began piano lessons under the tutelage of Amin Savabi and finally studied Harmony, Counterpoint, and composition with the great Iranian composer, Saeed Sharifian privately for 5.5 years. After a brief gap between his studies( about 6 months), he launched his international career by Zayande-Rud for string orchestra which has its first professional performance by Windsor Symphony orchestra in Canada, and his music has been demanded throughout the world ever since