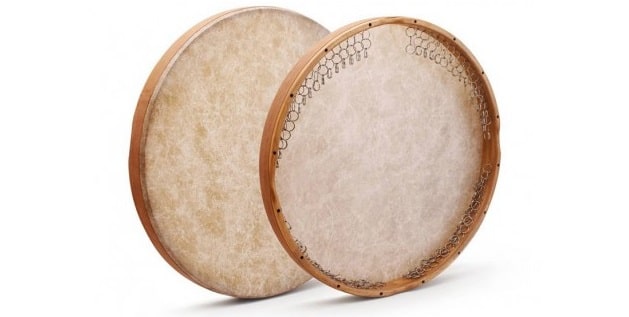 Researcher:
Mohammad Tarighat
Translator:
Fatemeh Alimohammadi
With its simple physical structure and captivating sound, the Daf never belonged to a particular culture or location, and every nation had different usages for this instrument considering their dominant customs and traditions. Daf's position had always been different among the tribes; some use it as the main instrument in joyous occasions and ceremonies, some use it as a war instrument, and others for ritualistic-religious ceremonies (Khaktinat, 2003: 25).  
Nowadays, there are circular structures with different names worldwide in Africa, Native America, China, Russia, Tajikistan, Uzbekistan, Afghanistan, Pakistan, Turkey, Iraq, Egypt, Syria, Lebanon, Saudi Arabia, Arab states of the Persian Gulf, and others.
The Lexical Meaning of Daf
The word Daf is derived from "Taf" which means "hitting" or "beating." This word is pronounced as "Dob" in the Sumerian language. It entered the Akkadian language from Sumerian and turned into "Dopo" or "Topo"; then it entered the Aramic language and turned into "Dop"; and changed to "Dof" or "Daf" in Arabic (Tohidi, 1996: 30).  
Circular instruments such as Daf are instruments for joyous or exciting ceremonies, capable of creating extremely tremendous excitement in human's heart, contradictory to their simple creating and playing process. There are different names for Daf in Iran, from Daf and Dayereh to "Charkh," "Gharbal," "Araboneh," "Tar," "Dire," "Dap," "Ghaval," and etc. (Pahlavan, 2013: 7). Also, Hushang Javid, the Persian anthropology and folk music researcher, believes "Dap," "Bater," "Dob," "Dayereh," and "Taborak" are the Persian names of Daf in different centuries while "Regh," "Bandir," "Mazhar," "Terial," and others are its names in the musical culture of the Arab world (Mogharab Samadi, 2007: 77).
Ahmad Khaktinat has also had multiple references to different Daf names:  
"During the third and fourth millennium, "Apada" was common among the Sumerians and later named "Dop". " Arabaneh" is a type of Daf that  hazelnut-shaped bells are used instead of rings. "Talban", "Jalajal", and "Jaljal" are other names of Daf in different regions" (Khaktinat, 2003: 16).
Nagib Sardasht states the following Daf names regarding the Kurdish "Hanbaneh Borineh": "Daf in the Kurdish language is known as "Dahf", "Dahfeh", "Dahfak", "Aarabaneh", and"Arabaneh" "(Nagib Sardasht, 2005: 295).
The Position and Role of Daf in the View of Daf Players
Daf is the most irreplaceable instrument in Tekyehs3 and mystics used in three aspects in their Sama ceremonies: first for its prophetic permission, second for its non-melodic nature, and third for its considerable help in the hypnotic course from the consciousness to the unconsciousness and the mystic realm (Mohammadi, 1999: 10).
Music of Daf is the prosperity of every Sama / Daf targets wounds and oppression
They say if one touches the Daf / It inflicts a wound of honor upon his heart (Rumi)
Daf has a high position among the Kurdish regions of Iran with special sanctity. The people of these regions see Dafs in a particular light of divinity, and this instrument has epic, martial, mystical, and even medical aspects for them. The mystical aspect dominates the others for them. Dafs are widely used in Monasteries and are known as one of the most fundamental mystical instruments.