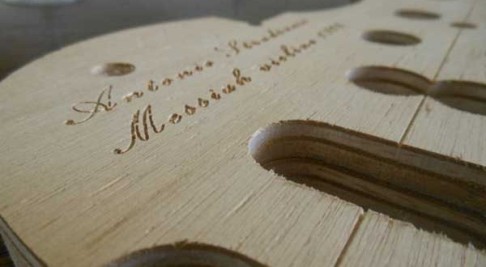 Antonio Stradivari (1644 – 18 December 1737) was an Italian luthier and is considered the most significant and greatest artisan in this field.
The Messiah-Salabue Stradivarius , was crafted in 1716 and is considered to be the only Stradivarius in existence in as new state [1].
The Messiah, sobriquet Le Messie, remained in the Stradivarius workshop until his death in 1737.Later in 1775 it was sold by his son, Paolo, to an Italian collector, Count Cozio di Salabue. and for a time, the violin bore the name Salabue. In 1827, it was purchased by a dealer, Luigi Tarsio.
Once when Tarisio was speaking about it to Vuillaume on the merits of this unknown and marvellous instrument, the violinist, Delphine Alard, said : "Your violin is like the Messiah: we wait for it constantly and it never appears!". This is how Messiah was given the name by which it has been known ever since [2].
Upon Tarisio's death, in 1854, Jean-Baptiste Vuillaume bought and restored it. He added the tunning pegs and the tailpiece(that shows the Nativity of Christ) [3] .
The instrument is in wonderful condition, otherwise. The top of the Messiah is made from the same tree as a P.G. Rogeri violin of 1710 [4].
In its long history ,Messiah, has been very rarely played . It has suffered none of the wear that is common to almost all old violins. That is why the varnish sustain its original orange-brown colour and peg-box and the black paint along the edge of the scroll has not worn away with handling.[3]
As many violinists really believe that the instrument sound better than newly made violins , researches have tried to figure out why.
Some pointed the finger to the dense wood which was harvested from Alpine spruces that grew during an Ice Age. Others suspected at the varnish , or even the chemicals that the master used to treat the wood [5].
It is known that the master made very precise calculations to work out the perfect shape for the instrument, the height of the bridge, the size of the sound holes and so on, each instrument uniquely sculpted by hand and ear [6].
The unusual narrowness of the rings in the spruce wood was noticed by US scientists who forward the idea the unique Stradivarius sound could be the result of these narrow rings. Certain violin-makers , however, were outraged by this hypothesis [6].
It is still a mystery why a Stradivari violin should sound so perfect, and why nobody has been able to reproduce it.
References:
The Nippon Music Foundation and the 'Lady Blunt'.. Andrew Hill (tarisio.com). 16 June 2011.
The Hill Collection of Musical Instruments, David D. Boyden, Oxford University Press, London, 1969.
Ashmolean Object of the month Sep 2004
Messiah Dendrochronology , Arjan Versteeg, The Strad 03/2011
Violinists can't tell the difference between Stradivarius and new ones By Ed Yong, 2012
Stradivarius instruments are rare, beautiful, and worth a fortune By Andy MsSmith , 2007