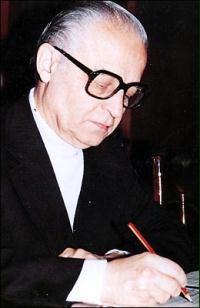 With Dehlavi it is not all about fame but recognition. Hossein Dehlavi is not a popular musician (like pop singers) whom everybody might know when he is walking on streets of Tehran; however, he is recognized by both amateur and distinguished musicians of the country.
Hossein Dehlavi was born on September 30, 1927 to a musically informed family. He started lessons in music with his father, himself a pupil to Ali Akbar Shahnazi (1897 –1985), the prominent Iranian musician and Tar player. His mother was a great source of encouragement for his studies in music, especially violin, as early as 9.
At Tehran Higher Conservatory of Music, Dehlavi studied principles of harmony, counterpoint and composition with Hossein Nasehi (1925-1977) and Persian Music with Abolhassan Saba (1902-1957). He graduated in Composing from the Conservatory in 1960.
He was appointed as the Principal and a teacher at Tehran National Conservatory of Music, a position which he maintained for ten years. One of his most well-known pupils is Alexander (Ali) Rahbari, the internationally acclaimed Conductor. His contributions to the standardization of teaching Persian Music at Tehran National Conservatory of Music were enormous. He paved the way for technical improvement of musicians and promoted standard teaching methods for Persian Music.
Dehlavi has so far published two albums, Bizhan and Manizheh (Vienna Radio Symphony Orchestra) conducted by Tomas Christian David and also conducted by Alexander (Ali) Rahbari. The second album is Anthology of Hossein Dehlavi's Music which includes his Persian Music pieces features Persian instruments.
After the Islamic Revolution of 1979, women vocalists were banned from solo performances; therefore, the vocal parts of Mana and Mani Opera by Hossein Dehlavi remains unrecorded to this day although composed in 1979.
His Marriage of Poetry and Persian Vocal Music (2011) is a result of 43 years of research and studies in Persian vocal music. Persian poetry consists an indispensable part of the Persian vocal music; hence, the significance of the marriage between the two.