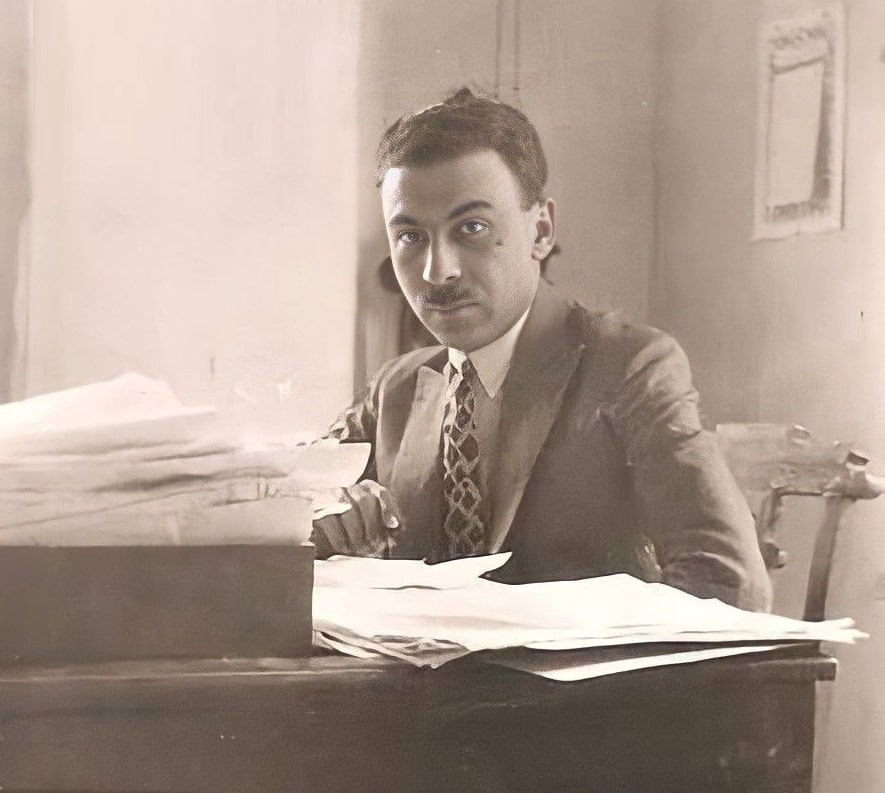 Translated by Mahboube Khalvati
Davoud Pirnia, writer and musicologist was the founder of "Golha" (Flowers of Persian Song and Music) programs on Tehran Radio (1956-1966). He received his early education from his father, Hassan Pirnia (Moshir al-Douleh), and several tutors of the time (Taraghi, interview, July 1989) and continued his studies at Saint Louis School in Tehran and then in Switzerland and graduated in law. While studying law, Pirnia got acquainted with European classical music. Upon returning to Iran, he was employed by the Ministry of Justice and founded the Lawyers' Guild. Then he was transferred to the Ministry of Finance and established the Department of Statistics in this ministry. Later, he became the head of the state inspection office at the Prime Ministry; he was, then, promoted to the position of the Deputy Prime Minister (Navab Safa, interview, August 1999).
In the early 1950s, Pirnia retired from administrative work and devoted himself to studying Persian literature. Simultaneously, he found his way to the radio organization at the time of the development of technical equipment and planning in radio production (Mallah, interview, January 1989). He proposed a plan to produce a program based on mixing Iranian poetry and music, which was accepted. The first program, entitled "Golhay-e Javedan" (Immortal Flowers), was recorded in collaboration with Abolhasan Saba and Morteza Mahjoubi, which included pieces for a solo instrument, accompanied with vocals (without percussion) and various poems declaimed by one or two presenters. In some programs, the poet's biography and an opinion about the style and context of his poetry were expressed, and in fact, music was a means for introducing Persian classical poetry and great poets of Iran. Pirnia used the best soloists, composers and singers of the time in producing these programs.
Golha program played an important role in the years which marked the decline of the Iranian music's ingenuity; moreover, it featured a complete period of Iran's vocal culture by recording hundreds of tapes of instrumental, orchestral and vocal (Avaz) compositions of great artists. Pirnia was present in all the stages of program production, from the selection of poems to the selection of composers, musicians, and singers and recording; he sought opinions from prominent artists, and each of his programs was prepared with great care, obsession, and painstaking efforts (Taraghi, ibid.). Gradually, the Golha program expanded and a large and regular orchestra was established with the budget Pirnia managed to receive from the Plan Organisation, and which often performed under the batons of Ruhollah Khaleghi and Javad Maroufi.
This orchestra continued to function until 1979. The various branches of the Golha program included: Barg-e Sabz (the Green leaf), a program performed with a solo instrument and solo vocalist on religious and mystical poems, with the intention of getting closer to Mola Ali [the first Shia Imam] (peace be upon him); Yek Shakheh Gol (A Flower Branch), a short program containing a short introduction of a poet and some verses of his poems; Golhay-e Sahraee (Desert Flowers), dedicated to the performance of Iranian folk songs, with a change of accent and style and the so-called "urban performance"; Golhay-e Tazeh (New flowers), which was established after 1970, after the death of Pirnia, and performed the works of the young generation of musicians such as Mohammad Reza Lotfi and Mohammad Reza Shajarian; nonetheless, the latest Golha programs never had the prosperity and brilliance of the works of Pirnia (Negahban, interview , February 1992).
Pirnia also founded the first special program for children on the radio with his son Bijan and gifted children who had learned music, and appointed Dr. Moin Afshar, a teacher at Qolhak Jam School, to lead it. Several artists of the next generation started their career after collaborating this program in the years 1952-1957 (Taraghi, ibid.)
Due to some disagreements with the administrative heads at the time, Pirnia left the radio and resigned from Golha program in 1966 retiring himself; he finally died of a heart attack in Tehran in November 1971.
References:
1- Bijan Taraghi, interview, July 1989;
2- Hossein Ali Mallah, interview, January 1989;
3- Toraj Negahban, interview, February 1992:
4- Ismail Navab Safa, interview, , August 1999.