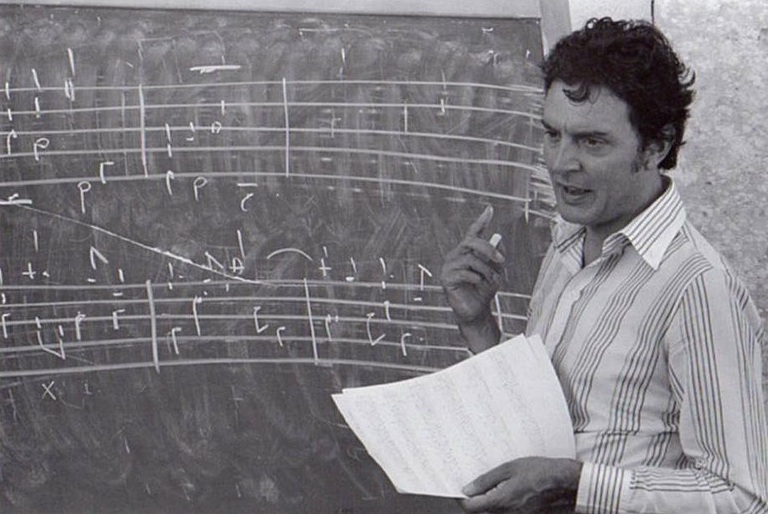 Written by Peyman Shirali
Translated by Mahta Mottaghi
Since many years ago, I had the intention of writing an article on the Italian maestro Ruggero Chiesa and his musical life; but his ingenuity and the immense legacy, which is impressive for not only me, but also almost everyone who knows him properly, made it hard for me to find out what am I even going to start my words with.
Chiesa, a remarkable and brilliant classical guitar player, teacher and editor, was born in Camogli, Italy. He started a couple of private lessons with Mario Canepa. Thenceforth, he continued his guitar education with Carlo Palladino in Genoa, Italy.
At 1956 and 1960, he participated in Academia Musicale Chigiana with having Alirio Diaz and Emilio Pujol back then, to teach him how to play Vihuela.
Subsequently, Chiesa were replaced as Alirio Diaz in tablature transcription courses until the year 1992, a year before his death.
After his carrier as a concert player came to an end as the result of hand problems, he began a new life devoting himself to training students. Moreover, he engaged with learning and contemplating about literature, lute and of course classical guitar. Eventually all his efforts led to revitalizing Italian guitar pieces were composed back in the 19th century.
Since 1963, he was a teacher at Giuseppe Verdi Conservatory of Music in Milan. Some of his best students are now known as the most outstanding international guitarist like Frederic Zigante and Emanuele Segre.
After 1965, Chiesa started a great collaboration with Edizioni Suvini Zerboni (an Italian music publishing house (ESZ) founded in Milan) by some revisions of ancient classical pieces, performing accurate philological analysis, and expanding this instrument's repertoire. Furthermore, editing many songs from different composers and also writing some educational books are some of his other musical activities that should be mentioned.
Chiesa wrote three books on the basic methods of playing guitar. These books served as references for remarkable and famous Italian guitar teachers and players to start their work with. One can say that he established the standard Italian school.
Nowadays, many musicians believe in his edits so they generally use his edits in master-classes and concerts all over the world.
"Any guitarist,"Chiesa once said, "that uses my editing knowledge, is literally my student."
In this article, I also tend to discuss about some edits from the greatest teachers of guitar history like Andres Segovia, Alirio Diaz, Emilio Pujol, John Duarte, etc. All these celebrated musicians are certainly notable for improvements of guitar skills that were brought about in these decades, but what made Ruggero Chiesa different and special is that he has left an impact on other players' knowledge.
Here are some points seen in his edits:
-Correct transcription of the notation
– Fingering both right and left hand in the sheet music
– Putting some ossias for bars
– His unique "timbre" for each bar
– Creating better and more accurate harmonic melody for the notes
– Using an artistic and a masterful way for the bass notes and rests.
Another overt trait that his edits have, is that they demonstrate a good articulation.
This Italian guitarist truly had a great knowledge of guitar structure and his editions has recovered guitar and its classical composers.
I, personally, have studied about more that 350 pieces edited by him and, indeed, I owe most of my knowledge and POV in music to him.
Chiesa spent several years of his life studying and figuring out etudes and repertoires and he even published his erudition in a weekly magazine. Those articles became so popular that almost all of his fans and the guitar teachers read his words, which later made a great impact on guitarists' musical life.
One of his favorite students, Frederic Zigante, took advantage of most of Chiesa's edits and reprinted it. Sadly, Zigante's fingering and anything that refers to editing a music sheet, have a lower merit and quality.
Finally, I want to say that this article can be useful and helpful for this field's researchers and students to get to know Chiesa and his efforts better.
I also recommend people to follow his best transcripts and edits for Sor, Giuliani, Tarrega, Aguado and Paganini's songs.
"Everything he had tried to edit, believe it or not, became a masterpiece."