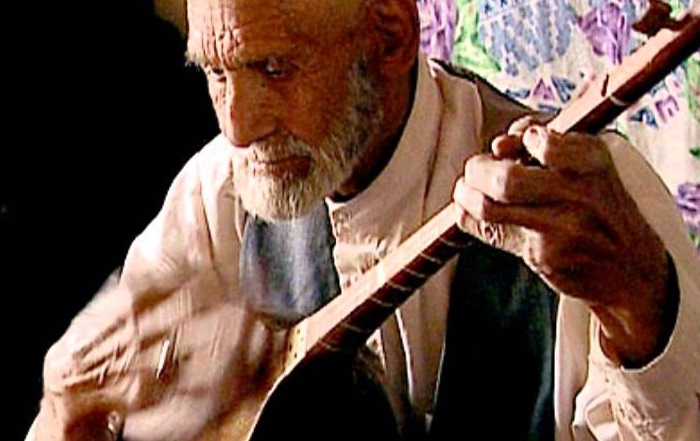 Written by Dr. M. Taghi Massoudieh (1927-1998)
Originally published in Honarhaye Ziba (Fine Arts) 3, 1998, 95-104.
Translated by Mahboube Khalvati
In addition to the above-mentioned, polyphony can be also formed when a melody is performed by several singers in different ambiances or different sound registers according to their physiologic abilities. An example of this has been performed in rituals of Khanqah of Ghaderi darawish of Mahabad [i]. Khanqah ritual of Ghaderi darwaish is constantly accompanied by dance and avaz. Constant repetition of a melody or motif leads to the monotony of dance movements and consequently leads to ecstasy or comma. This constant monotonous repetition can be compared to hypnosis. Ecstasy and comma based on this are metaphysical status and are considered as a border between life and death [ii]. Probably for the same reason, in Ghaderieh Khanqah in Sanandaj, extraordinary and agonizing acts such as thrusting a blade or dirk inside body organs is considered a joyful act. Therefore, ecstasy happens with anesthesia in a way that the dancer passes out on the floor at the end of the dance; and, consequently, his return to the material world features a scream [iii].
The polyphonic forms which were introduced occur unconsciously. On the contrary, there are some polyphonic forms in Iranian music that happen intentionally. These examples are mostly instrumental and are usually performed by dutar. Below an excerpt of these polyphonic forms are presented:
Farangi Rezagholi (Transcription No.7)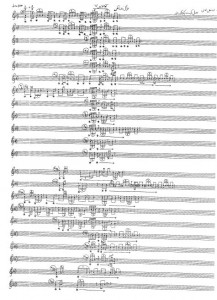 One of the popular muqams in Lorestan music is Farangi Rezagholi (Transcription No.7). The reason it is called farangi is that the melody is adopted from foreign music and "Rezagholi" is the name of the narrator of the muqam or an individual after whose name the muqah's name is adopted [iv]. In Lorestan, dutar is called Tamireh. Imam Gholi Imami, Lorestan's well-known tamireh player, performed Farangi Rezagholi (Transcription No.7).
Melodic figures of Farangi Rezagholi muqam is accompanied by a second voice like the voice of drone. The drone constantly follows the ascending and descending movement of the melody. Relocation of drone in this manner shapes a type of parallelism or a duet sequence. Farangi Rezagholi muqam consists of three melodic figures (Transcription No. 7, a + b + c staffs 1, 6, 14). Out these three figures, only the first one (a) experiences the most drastic change. Sequence of two voices due to sequence or relocation of drone exists in all Lorestan's musical muqams including "Farangikhan-e Mirza", "Male Jiri" and also "Avazen Be Poova Mouri". Here only one example is introduced.
A parallel coincidence of two voices as a result of the relocation of drone also exists in instrumental pieces in Khorasan and Torkaman music. Here two examples are introduced; one is "Torqeh" belonging to North and Northwestern Khorasan and the other one is "Kach Falak" belonging to Turkmen music.
---
[i] Recorded from Iranian Culture TV on 15/12/1975.
[ii] Bose, Fritz; Musik und Musiker in auBereuropäischen Kulturen: "Humanismus un Technik 14, Heft 1, 1970, S. 1-8.
[iii] Recorded by the author in rituals of Ghaderieh Daravish Khanqah in Sanandaj conducted by Tofiq Moghadam.
[iv] As mentioned by Hamid Izadpanah.