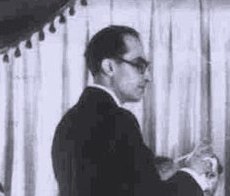 Translated by Mahboube Khalvati
Music as an art has its own special history; emergence of a singer, of an instrumentalist and then the emergence of the strong character of a composer covers three significant phases of the art of music. With the emergence of composer which was simultaneous with the emergence of the language of music, this art managed to offer a domain for criticism for its composer; a procedure which led to a magnificent variety and evolution in musical production. Even though the conflicts between singers and instrumentalists have not met their end in the Iranian society and while singers can achieve high, instrumentalists have yet to play behind curtains . In a special era, with the efforts of musicians such as Ali Naghi Vaziri (1887-1979) and Rouhollah Khaleghi (1906-1965), glimmers of a composing era started to glow bearing fruit in Khaleghi's achievement as Iran's first professional composer. Khaleghi made his reputation as a composer while Vaziri deserved to pioneer this path. By then Vaziri was well-known as a Tar player.
Rouhollah Khaleghi was not merely a student of Vaziri, he was rather his loyal friend and companion to Vaziri's goals and managed to follow the forerunner's objectives to the best of his abilities that was remarkable per se. Khaleghi finally established the character of a composer in Iran.
With composition of beautiful pieces in Rast Panjgah, Mahour and Dashti, Rouhollah Khaleghi presented, for the first time, instrumental music, to the audience of Iranian national music.
Khaleghi was a dexterous artist. He once mentioned that in a summer night while he was walking in an old, dark alley in Bukhara he heard a dervish singing what he later developed into the famous theme of "Bouye Jouye Moulian," interestingly enough the dervish has been also singing Roudaki's poem . The poem was read to the Sultan by the poet himself in such a musical attractive way that made Sultan Mahmoud Ghazni (971 – 1030) leave Samarghand, where he was happily residing with no willingness to return to Bukhara, to jump on the horse and gallop towards Bukhara without his turban and shoes on.
It is not simple to dig out such a perfect work of art from the heart of Iran's culture and dramatize it like an experienced composer. Khaleghi was the master of finding such melodies. Another example is when he recorded a short piece being played by Reza Mahjoubi in a dilapidated coffee house and then arranged and harmonized it to compose a beautiful piece in Dashti which was first broadcasted in "Golhay-e Rangarang" (Colorful Flowers) programme on radio.
In another opportunity and in a visit to Dezfoul in Khouzstan Province, Khaleghi listened to an unknown Dezfouli Tar player playing the beautiful melody of "Dast be Dastmalom Nazan" and saved one of the special Iranian national melodies from negligence through time. It was again Rouhollah Khaleghi who re-composed unison tasnifs by Ali Akbar Sheyda (1843-1906) and Aref Ghazvini (1882-1934) for orchestra and turned them to the jewel of the national Iranian music.