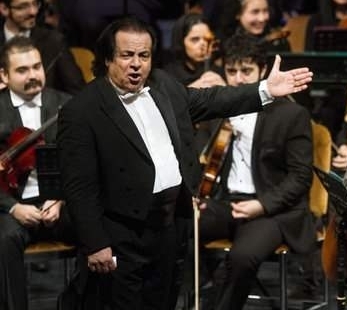 by: Sadjad Pourghanad & Mahboube Khalvai

In the few days prior to the New Iranian year (March 2015), the news of the revival of Tehran Symphony Orchestra under Ali (Alexander) Rahbari's conductorship was announced. Ali Rahbari, who served as assistant to Herbert von Karajan in Berlin Philharmonic Orchestra at a very young age, was also invited to conduct Tehran Symphony Orchestra in 2005; however, the election of Mahmoud Ahmadinejad's government put an end to his collaboration with this Orchestra. Recently, it was announced that Rahbari is invited to conduct an orchestra in the U.S.
Ali Rahbari is the most prolific Iranian conductor throughout the world. Writing about the activities of such a renowned Iranian musician on this international scale, tends to become redundant as much is written and said about him.
It does not go amiss to review his years at the National Conservatory of Music in Iran in order to contextualize his years as a young ambitious musician though. Ali Rahbari is a graduate of National Conservatory of Music where he also served as Principal (simultaneously with holding the same position at the Higher Conservatory of Music) during his years prior to immigration.
One of the major characteristics of musicians who have studied at the National Conservatory of Music while Hossein Dehlavi was the Principal is special attention to the Iranian music. Contrary to the Higher Conservatory of Music which solely focused on understanding and performing the Western Classical music with its extensive repertoire, the National Conservatory of Music directed close attention to the Iranian instrument and Iranian music.
Most of the graduates from the National Conservatory of Music are familiar with playing one or two Iranian instruments besides their main instrument. Ali Rahbari is not an exception; he plays tonbak and santour as well and has a comprehensive knowledge of the Iranian music.
In addition to engendering nationalist feelings, engagement with the Iranian music leads to bonding with the new repertoire of the classical music especially non-Western works; a qualification which some of the graduates of the Higher Conservatory of Music and those of many conservatories throughout the world lack. As a matter of fact, due to rehearsing and performing works by prominent classical musicians for too many hours, students make a fetish of them and consider composing as an unforgivable mistake and as disrespect for the great composers while they lack the ability to criticize and understand new realities of composing.
At the National Conservatory of Music and at the instruction of the Principal, Hossein Dehlavi, the students were encouraged and required to take courage and compose to the best of their capabilities. No carelessness in composing was accepted and works must have been defensible.
Ali Rahbari studied violin in the National Conservatory of Music but was attracted to conducting and composing very soon. As a result of this, he composed works, such as "Persian Blood on Sol", a concerto (concertino) for violin "Noheh Khan", Half Moon, Persian Ballet to name but a few, which are among the most valuable Iranian symphonic compositions.
During his many years of conducting various symphony orchestras all over the world, Ali Rahbari seldom stand the chance of conducting works by Iranian composers including him. The following, however, is the list of Iranian symphonic creations recorded under Ali Rahbari's baton:
Persian Symphonic Manzoumeh (Symphonic Poems from Persia): the Nuremberg Symphony Orchestra was commissioned by the pre-Revolution Iranian government to record this album. The album includes compositions by Hossein Dehlavi (1927), Ahmad Pejman (1937), Houshang Ostovar (1927), Mohammad Taghi Masoudieh (1927-1998), Aminoullah (André) Hossein (1905-1983) and Ali Rahbari.
* Manzoumeh: a long narrative poem
Bizhan and Manizheh for String Orchestra by Hossein Dehlavi: the album was recorded in Austria prior to the 1979 Islamic Revolution and was produced in Iran along with another work, composed and conducted, by Dehlavi entitled "Shour Afarin."
Mani and Mana Opera by Hossein Dehlavi: Ali Rahbari sponsored the recording of the musical parts by Slovak Symphony Orchestra in Bratislava; however, the vocal parts are still outstanding (due to the ban on solo performances by women vocalists in Iran); hence, the album still awaiting its release.
Iraneh Khanom by Peyman Soltani (1971): the album was recorded by Slovak Symphony Orchestra in Bratislava. It is currently being mixed.
Persian Mysticism around G by Ali Rahbari: the album, which was recorded prior to the 1979 Islamic Revolution, was recently issued in CD format (being originally produced in gramophone format). The CD version includes some new pieces.
Mirage by Ahmad Pejman: this piece which was part of "Taksavare Eshq" album is no longer available.