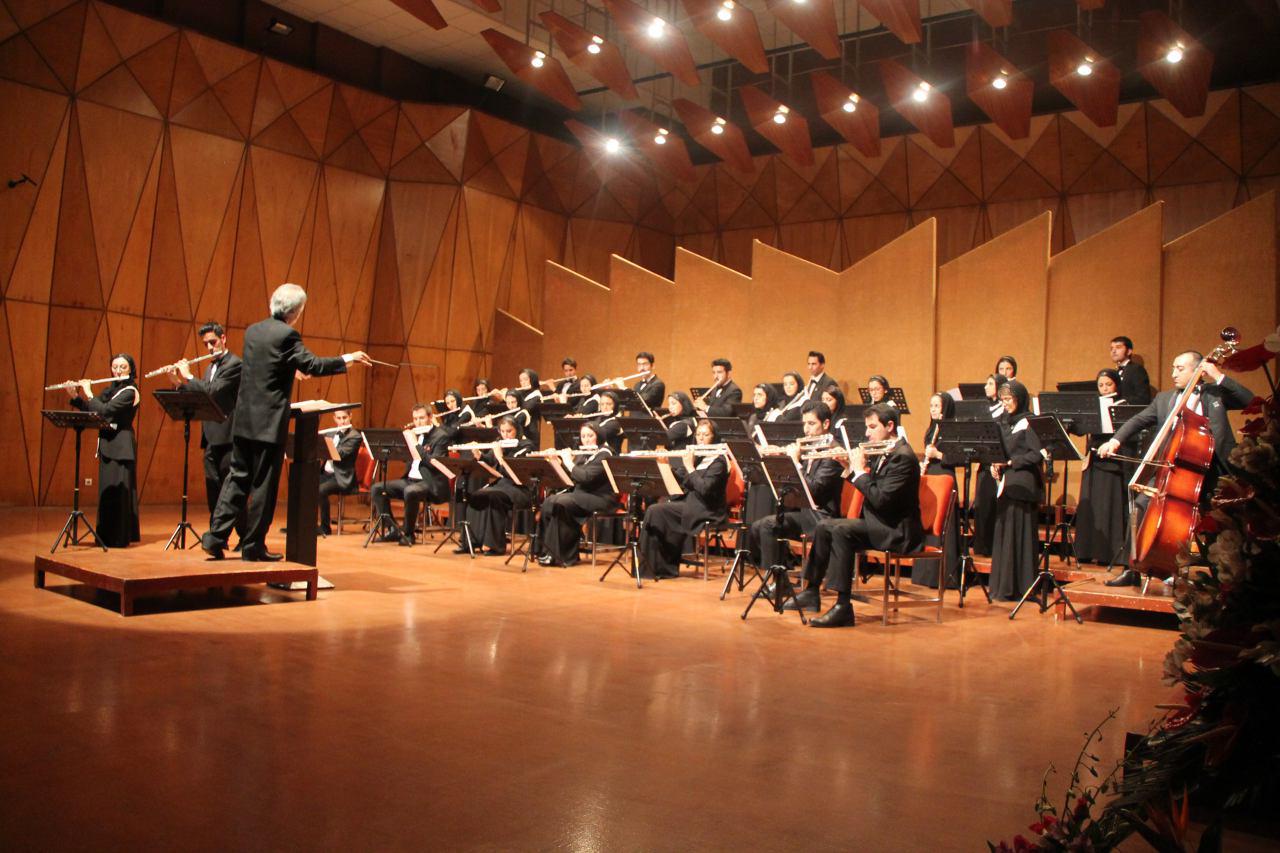 Tehran Flute Choir was established in 1394 (late 2015) by Firouzeh Navai. Tehran Flute Choir, Iran's first largest flute choir, recruited its members mostly from young talented flutists of Iranian Flute Association. Featuring piccolo, flute, alto flute and bass flute, Tehran Flute Choir, directed by Firouzeh Navai, premiered under the batons of Saeed Taghadosi on January 7-8, 2016 at Roudaki Hall in Tehran.
Soheil Koushanpour, Arts Director and Ehsan Tarokh, the Executive Director of the Choir were also two key role players in the arrangements and coordination for the concert.
The Choir aims at introducing international standards for playing flute in Iran and for supporting flutists. Moreover, the Choir seeks to establish an environment for interaction and exchange of ideas to bring flutists close together.
Firouzeh Navai and Saeed Taghadosi are an Iranian flutist couple who have both graduated from Tehran Higher Conservatory of Music and then moved to Austria to further their education upon receiving scholarships in 1970s. After graduation they both returned to Iran and join Tehran Symphony Orchestra in 1978 which was then conducted by Farhad Meshkat (born 1937). Firouzeh Navai was the first female flutist in Tehran Symphony Orchestra then.
They got married in October 1979, they moved to Vienna in 1980. Both Navai and Taghadosi have participated in James Galway and Wolfgang Schulz' master classes and are among the most prominent Iranian flutists. The couple currently resides in Switzerland.
Tehran Flute Choir's concert was very promising with the spirit of friendship, cooperation and caring which prevail the choir's ambiance. The couple has not been successful in only sharing their knowledge and expertise with choir members but also their love and affection. The main goal of the Choir, as stated by its founders, is therefore to create and maintain a friendly environment without any unhealthy competition.
Tehran Flute Choir intends to attract more members; therefore, a piece of good news for aspiring young flutists is that registration is still open to join the Choir.