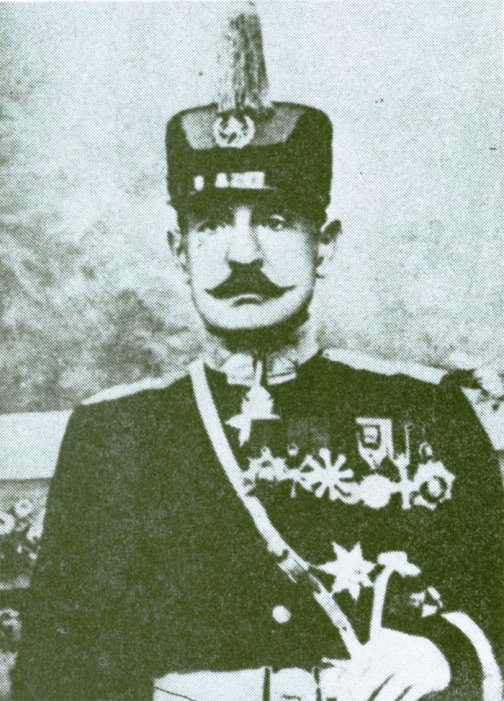 Translated by Mahboube Khalvati
Gholamreza Khan Minbashian taught courses such as organology, orchestration of military music and harmony based on the books which were translated from French into Persian with the help of Aliakbar Mozayyan-o-Dolleh (1846-1932). Some pamphlets were also prepared based on Minbashian's teachings on solfège and on wind instruments which were never published.
In 1914 (or 1917 as mentioned in some references), Gholamreza Khan founded a school for military music entitled "Music Class" and started teaching there. The courses taught at this school were four years long and civilians along with military personnel could take part in the courses and be trained on classical (non-military) music.
Ranking Brigadier General, Gholamreza Khan established the Army's Music Department and became its director in 1921. Seven years later, when it was banned to simultaneously work for and receive salaries from two public organizations, he resigned as the head of the music school and handed over the responsibility to Colonel Ali Naqi Vaziri. Vaziri immediately removed military music courses from the curriculum of the school as there was an independent school for teaching military music, that is, Army' Music Department run by Gholamreza Khan and his son Nasrallah.
Gholam Reza Khan Minbashian retired in 1930 and his son Nasrallah replaced him. Gholam Reza Khan passed away in 1935 and was buried in Qom, Iran.
Gholamreza Khan's sons, Nasrallah and Gholamhossein Min Bashian, both studied music in Europe and rendered a lot of services in the scene of the Iranian classical music (Nasrallah Min Bashian's sons, Fathollah Min Bashian and Mehrdad Pahlbod, both of whom were musicians assumed high ranking positions in the second Pahlavi dynasty. Fathallah became the Commander of the Army's Ground Force and Mehrdad became the Minister of Culture and Arts).
Gholamreza Khan also played the Iranian instrument Tar and had learned to play the instrument under the supervision of maestros at the time. Therefore, he was keenly interested in Iranian Dastgah music and, unlike his son Gholam Hossein, who strongly opposed Iranian music, considered teaching Persian music necessary. Gholamreza Khan had consequently made Hossein Hang Afrin responsible for teaching Iranian music. For the first time, Gholamreza Khan prepared and published the score relating to a part of Mahour Radif which was performed by Hossein Khan Hang Afrin, in Tehran and in Leipzig, Germany. In the Radif which was notated by Gholamreza Khan, Arabic notation symbols were used to indicate quarter tones.
Gholamreza Khan also mailed the afore-mentioned Radif for Alexandre Jean Albert Lavignac (21 January 1846 – 28 May 1916), the editor of the French Encyclopedia of Music, with whom he has been corresponding about the Iranian music.
Gholam Reza Khan also played Iranian music with the piano and changed the tunes to play quarter tones, but before him, Sarvar-ol Molk also used to play Iranian Dastgahs on the piano using a different hand position compared to the standard hand position which Gholamreza Khan used.
In addition to teaching piano, Gholamreza Khan also taught several wind and brass instruments and had founded some orchestras with his students, most notably among his students and except his children are, Zia Mokhtari, Hassan Radmard, Mohammad Najmi, Mosayeb Rezvani, and Hossein Ali Vaziri.
During the time of Qajar and Pahlavi, Gholamreza Khan's pieces including hymns and marches were performed; however, their scores are hard to find. In his biography, pieces for piano entitled "Piano Fantasy", Daramad-e Avaz-e Esfahan, Pish Daramad and Tasnif" and also the arrangement of pieces by Roknoddin Mokhtari for piano are mentioned which were published then.