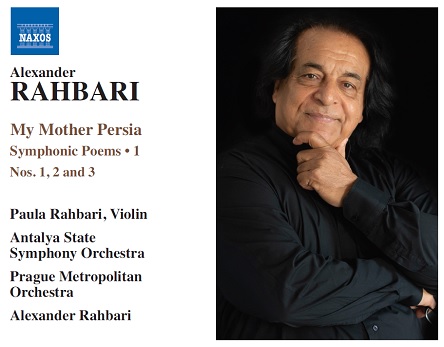 Concertino for Violin and Orchestra entitled Nohe Khan was composed by Ali (Alexander) Rahbari while he was studying music in Vienna in 1972. This piece was composed having in mind the Ashoura events and inspired by the music which is used during the Ashoura ceremonies. The piece was first performed and recorded by Bijan Khadem Missagh violin virtuoso was released on vinyl in Iran. In 2018, Ali Rahbari released a collection of his pieces entitled "My Mother Persia". In these albums, he revised Nohe Khan and recorded it with the Prague Symphony Orchestra with his wife, Paula Rahbari, as the solo violinist. Other pieces of this work include pieces for a tenor singer and the symphony orchestra. This is the first time that Ali Rahbari releases an album with Naxos in his capacity as a composer. He had released many works as a conductor with this publishing company.
In the booklet which in included in the albums, Barbad Bayat introduces the poem symphonies as follows:
Symphonic Poem No. 1 'Nohe Khan'
Concerto for violin and orchestra
Dedicated to Hossein Alizadeh

Nohe Khan is the name for the singer, usually a tenor, who sings in various religious ceremonies. They mostly sing in a sad, melancholic and emotional style, with an authentic Persian rhythm which is repeated in the Mass. The Day of Ashoura is probably the busiest day for the Nohe Khan, as Ashoura is the day on which the grandchild of the Prophet Mohammad, Imam Hossein, was killed. On this day Muslims around the world organize a ceremony from morning until noon to mourn him. As a child, Rahbari was impressed by the ceremony, and recalls this historical event as a symphonic poem for violin and orchestra. Here the violin plays the role of the Nohe Khan in three movements, which mostly represents the traditional Persian way of singing and playing. This piece, composed in 2018 is a revision of Nohe Khan originally written in 1972.

Symphonic Poem No. 2 'Mother's Tears'
Dedicated to Hamdam Rahbari

This short symphonic poem represents the evening of Ashoura when orphans gather to sing sad melodies. Rahbari lost two brothers and a younger sister during his childhood, and had witnessed his mother and relatives mourning in the Children's Cemetery. The childhood of the composer is recalled again in one of the saddest Iranian melodies, the Orphan Melody, which starts with an expression of deep grief that lingers until to the end of the piece.

Symphonic Poem No. 3 'Children's Prayer'
Dedicated to Rahmatollah Badiei

As a child in Iran, the composer was fond of group morning prayers when a prayer was read by one child and repeated by the others. As the melody continues it conveys the children's feelings of being a little naughty and afraid of their teachers at the same time.