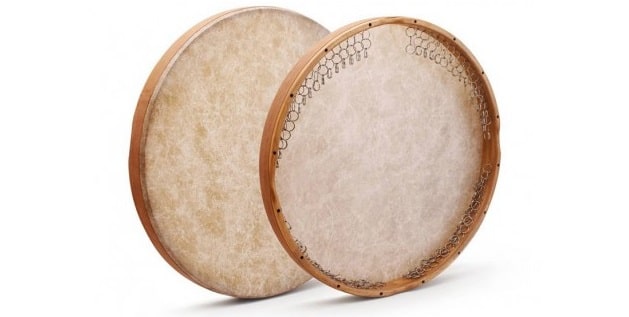 Researcher:
Mohammad Tarighat
Translator:
Fatemeh Alimohammadi
Conclusion
"Daf" is one of type of percussion instruments that has a long history and is commonly known as circular instruments (with a rim). In some tribes, Daf was used as the main instrument in festivity and joy ceremonies; in another tribe it was used as the main instrument for war and campaign ceremonies and some others used it for ritual and religious ceremonies.
In Iran, there are many different names for circular instruments such as: Daf, Dayereh, Charkh, Gharbal, Deire, Ghaval, Dap, Doyah, Sama, Daryeh, Buter, Doub, Taborak and so on.
In this article, a circular instrument called "Daf" in Kurdistan was studied that its components include:
Arch, frame, Gharbali: The type of wood used in Daf depends on the variety of trees in the area. In this instrument, woods of grape, orange, fig, walnut, maple, berry, quince, plane tree, ash (Van, Benav, Benavch) and Salicaceae such as: poplar and red willow are used.
The piece of wood, about two meters long, is made in a circle shape with a diameter between 53 and 55 centimeters. Dimensions will be different for children and youth and a diameter of less than 50 cm is considered for them. In some cases, the diameter may be more than 55 cm , which is made only for the type of sounding  in an orchestra. The thickness of the arch wood in the part where the studs are located is about one and a half centimeters. The Avazeh of Daf also starts from the middle of the frame and gradually decreases to a thickness of two and a half to three millimeters at the junction of the skin. The width of the frame is between five and seven and rarely 10 cm (these are known as monastery Daf), it is preferably compared to the size of the player's palm, so that the knuckle of the thumb does not bend. Such a width will also prevent the wrist from bending in the "middle" beat.
Thumb index: The location of the thumb to hold the Daf. The size of the thumb should be appropriate with the size of the player's palm and the length of his fingers so that the wrist does not bend during the "middle" beat.
Today, hooks and rings, unlike the past that were made of brass, steel or copper, are only made of iron. The rings are made of iron wire about one and a half to one and eight centimeters in diameter and about one millimeter thick. The distance between the hooks and the skin is calculated by taking into account half the width of the arch and adding about half a centimeter from the skin. The distance between the ring and the side rings should be as large as the diameter of a ring, which makes for a better arrangement and less interference of the rings and a clearer sound, and also helps to keep the instrument lighter. In each hook, there are four rings that the first and second rings are connected from above as a single and the next two rings are connected to the second rings in pairs.
Skin: Old, fat-free, clear, and transparent skin of animals such as sheep, goat, yeanling, lamb, ewe, antelope, fish, camels, calve, and deer, but today sheep skin and in some cases goat skins are used.
Studs or tacks made of brass, copper or iron are used to attach natural skin to arch.
Strap: When the duration of playing Daf is long, a strap is installed on the inner edge of the Daf, which the musician wraps around his wrist to reduce hand fatigue.
The best weight for Daf is a weight that applies a slight pressure to the forearm muscles. In simple terms, the musicians feel the weight of instrument.
It is hoped that this article has led Daf learners to take a deeper look at the form and components of this ancient instrument than before, and that the art of making Daf, especially Dafs with artificial skin, will be revived by using veterans' experiences, having no weaknesses and shortcomings in the structure.  Another important issue that needs basic research is the study of the relation between the weight and diameter of the arch of Daf with limbs, ossification and muscle mass at different ages of Daf musicians, which can be divided into different groups and as a result, design and construction of instruments in various dimensions in accordance with medical science standards and without possible damage to Daf players.
Resources
Ahmadi, A., 2019, Daf officials, New Note Publications, Yazd, First edition.
Pahlavan, K., 2015, Daf and Dayereh, Arun Publications, Tehran, First edition.
Tohidi, A., 1998, Daf playing style, Soroush Publications, Tehran, First edition.
Khaktinat, A., 2005, Daf and playing Daf, Sureh Mehr Publications, Tehran, First edition.
Darwish, M.R, 2005, Encyclopedia of Iran Instruments, Mahour Cultural and Artistic Institute, Tehran, Volume 2, First Edition.
Mohammadi, B., 2001, Daf and its feasts in Ghaderi's Takaya, Mahidasht Publications, Kermanshah, First edition.
Moradi, A., 2020, Daf in monastery, Arshadan Educational and authoring Institute, Tehran, Volume One, First Edition.
Mogharab Samadi, A., 2009, Exercise of Love, First book, Tasnif Publishing, Tehran, First edition.
Nasrollahpour, A., 2000, Kurdish instruments, Taghbostan Publications, Kermanshah, First edition.
Naqib Sardasht, B., 2007, Knowing instrument in Kurdish music, Tavakoli Publications, Tehran, First Edition.
Researcher's Interviews
Jabari, A., 2022, About pathology of Daf players, May, In person interview, Tehran.
Hosseini, B., 2021 and 2020, About his Daf playing Style, September and January, In person interview, Sanandaj.
Mohammadi, H., 2021, About the structure of Daf, September, In person interview, Sanandaj.