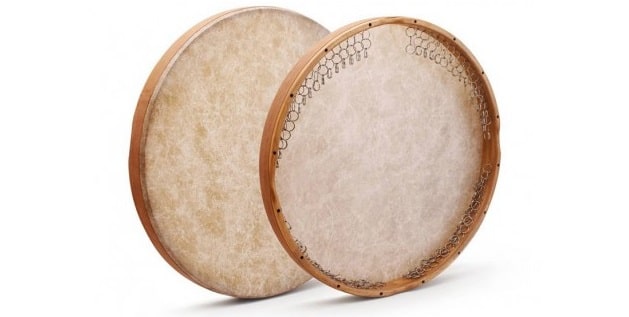 Researcher:
Mohammad Tarighat
Translator:
Fatemeh Alimohammadi
Introduction
Today, percussion instruments have such a high place in music that are an essential element of orchestras. This has attracted many people to this type of instrument with roots as old as the first humans. A historical study of music, shows that humans used the sound of these instruments to defend themselves against wild animals and, over time, for alerting each other, signaling their readiness and encouraging people for war, ritual ceremonies, dances, etc. in a manner that is still clearly visible in music and some ritual ceremonies.
"Daf" is a percussion instrument with a long history used in different cities of Iran and even its neighbors in different manners. This instrument is also commonly known as circular instruments1 (with a rim). This is one of the most widely used instruments in human history due to its simplicity of making and playing. Daf and Daf playing are highly valued and respected in Iran's "Kurdistan" province so that playing the instrument includes its specific etiquettes and rituals.
Nowadays, different factors have changed Daf and Daf playing. These changes have created various performance and training methods, but some were destructive to the Daf structure in a manner that mass Daf production has turned this art into an industry that not only affects the Daf sound, but also irreversibly damages the musicians' hand joints. Therefore, this study will analyze the Kurdistan Daf's structure by proposing this central question: What are the components of the Kurdistan Daf? It also introduces a design for this instrument that inflicts the least possible damage to the musicians' hand joints. This study has a practical goal and uses the descriptive-analytical method. It gathers information using library and field research (interviews with instrument manufacturers).
The History of Daf
Circles are one of the essential symbolic shapes among ancient civilizations. The circle is a universal symbol for wholeness, totality, symmetry, perfection, infinity, eternity, not being limited to one place, and the most natural shape, which makes it divine. It is a complete shape with equal and similar components alongside an unlimited number of radiuses from the same core (Pahlavan, 2013: 26-27).
Emad Tohidi expresses the following in his "Daf Playing Method":
"The historical monuments in Shush from the 27th century BC include one of the earliest references to minstrels. Also, a carved bronze cup from Lorestan shows the Daf, Chang 2, and Ney instruments in religious or court ceremonies (Museum of Ancient Iran). The embossed carvings from the "Ashur-Banipal" parlance (The first millennium BC) in the British Museum depict Babylonian musicians some of whom are holding a Daf. Other prominent stone carvings and paintings from early historic eras show different musical instruments such as the Daf in the Ilami (Farah)
1. Frame drum
2. Harp
embossed carvings of the Elamite era being the oldest. This carving shows priests during a sacrifice ritual holding instruments such as Dafs and Changs" (Tohidi, 1996: 32).
A brief look at history shows that the Daf dates back to 7000 years, originating from Mesopotamia and Kurdish regions. Historical evidence also shows Arabs have played the Daf for at least 2000 years; therefore, the Daf might be gifted from Kurds to Arabs in the cultural exchange process (Ahmadi, 2017: 10-11).
Keyvan Pahlavan says about this: "the Daf is an instrument from the Eastern Asia, which includes Tehran and the Arabian Peninsula, and remained only in North Saudi Arabia due to the special historical and social conditions of this Peninsula (there were no dealings with them and they remained unchanged for years) and entered Iranian court before Islam and entered the land in a general and popular way after the Islam religion and the Arabs from the Hirah region, used to export Iranian cultural manifestations to Saudi Arabian and import things from Arabia to Iran" (Pahlavan, 2013: 59).