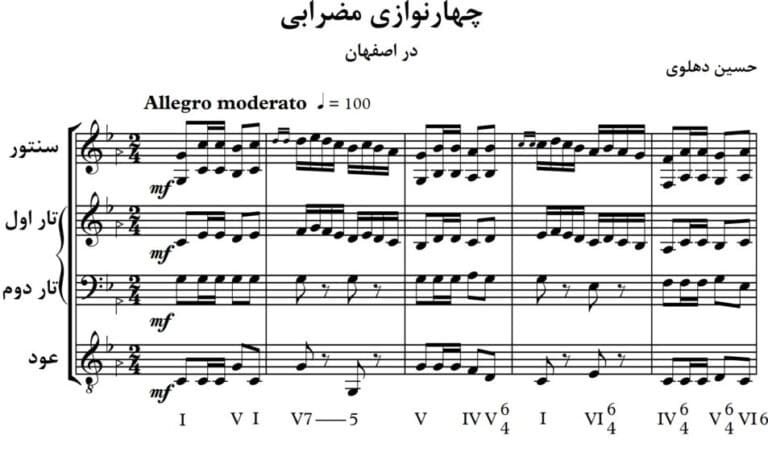 By Pouria Nasiri and Sadjad Pourghanad
Discussions and research have been conducted on the harmonization of "dastgah" and melodies in Iranian music, and several books have been published on this topic, including "Armenian Music of Iran" by Ali Naghi Vaziri, "Harmony of Iranian Music" by Farhad Fakhreddini, and "Harmony of Iranian Music" by Ali Ghamssari. A master's thesis titled "Presenting a Solution for Harmonizing Based on the Structure of Tritone Intervals" was written by Atefeh EinAli in 2014. Additionally, the invention and use of "Even Harmony" by Morteza Hannaneh should be mentioned.
Sometimes, the lack of using certain chords (such as triads) and harmonic progressions in some "dastgah" or melodies is discussed and examined.
Considering the published materials on this subject and the wide differences in opinions among authors of books and theses, it can be concluded that the presented opinions are not definitive solutions, but merely reflect the perspectives of individuals regarding harmonization in Iranian music.
It is important to note that the rejection of using harmonic progressions or specific chords does not have a general rule, and at best, it is only the personal opinion of the speaker. Therefore, it is necessary to clarify this matter, especially for students and music learners, to avoid misunderstandings.
On the other hand, since each instrument or "tune" consists of several "gooshe" and has different tonal roles while using its specific "gooshe", it is necessary to discuss the best harmonization approach (again based on personal opinion) considering these two factors.
In other words, rejecting the use of harmonization techniques for a broad entity like an "dastgah" or "tune" means disregarding the existing modal foundations and eliminating the tonal roles that can vary in each corner. Naturally, the elimination of these roles leads to the formation of weak harmonic progressions.
It should be mentioned that the idea that "the behavior of Iranian music "gooshe" is completely different from Western music and Iranian music should take inspiration from Eastern music, which is its sibling, not Western music" has been subject to serious criticism for years. Moreover, the similarities between "gooshe" (especially polyphonic "gooshe") in Western music (church "gooshe") and "gooshe" of regions under the influence of Aryan tribes are much greater than those of Eastern regions (such as China, Japan, etc.). Therefore, categorizing Iranian music in the Eastern music group is not a defendable idea. Additionally, the use of polyphony in Western music on some Iranian "gooshe" has been experimented for years and has found supporters among Iranian musicians. Hence, this group of supporters cannot be ignored.