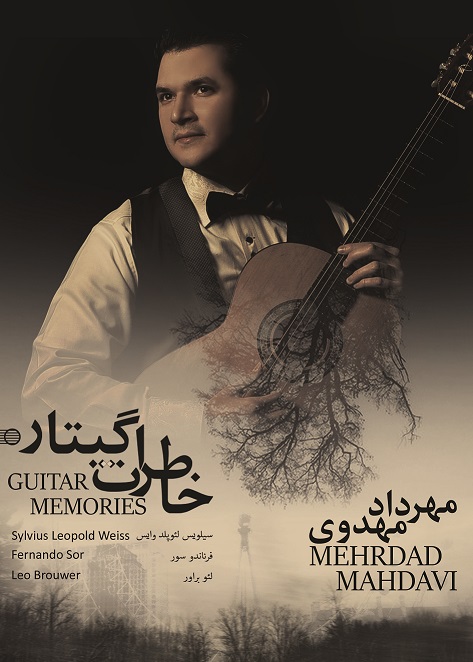 The album "Guitar Memories" consists of the performance of baroque to recent era masterpieces, by Mehrdad Mahdavi, and is published by Tanin-e Honar Publication.
In this album there are pieces composed and arranged by artists such as: Sylvius Leopold Weiss, Johann Anton Logy, Fernando Sor, Yuquijiro Yocoh, Leo Brouwer.
Objective of performing these familiar masterpieces is particularly presenting sole capabilities of classical guitar for playing them.
These pieces resemble the pleasant memories of first music classes and the performer make an effort to share those fantastic and memorial feelings with audiences.
This album presents 12 pieces arranged for solo classical guitar, which was performed and recorded in Spring 2016.
For purchasing this unique album you can visit here.
Introducing Composers
Sylvius Leopold Weiss (1687 – 1750)
Composer and player of the German lute instrument in Baroque Era. Even today many consider him the greatest lute player of all times. By the year 1717 he became a member of the small orchestra of Dresden Kingdom of Germany. Later he went on many tours for performing in Dusseldorf, Munich, Vienna, Prague, and other cities. Weiss composed many pieces for solo lute.
Johann Anton Losy (1650 – 1721)
He was an aristocrat in Prague, playing and composing masterpieces for lute in the Baroque era. His works are a combination of Brisé (French) with Cantabile (Italian) styles. At the period when playing lute was most popular in Bohemia, he was probably among the best lute players and composers.
Fernando Sor (1778 – 1839)
Great Spanish guitar player and composer, born in Barcelona, celebrated by some as "the Beethoven of the guitar". Besides compositions for guitar, he has written music for opera and ballet performances as well. With no doubt études provided by Sor are the best of their kind. Because Sor was a guitar instructor, he was supposed to prepare études for teaching his students. An abstract of 20 of Sor's études could be found in the collection provided by Andrés Segovia.
Yuquijiro Yocoh
Born in 1925, Hita, Japan, because of great enthusiasm for playing guitar left studies in dentistry at Keijoh College, and became a self-instructed guitar player and composer. Theme and variation of his style is most characteristic in his piece for a Japanese folk song named "Sakura", performed and recorded by numerous guitarists worldwide, which is also his most famous composition till date.
Leo Brouwer
Born 1939 in Havana, Cuba, conducted music lessons in Juilliard School in New York, US. Pieces composed by Brouwer are considered among the most favorites for guitar. He has also composed many pieces for other instruments as well. In his resume there are many orchestral compositions for music of movies. Many of his compositions for guitar are famous worldwide and have a fixed position in current guitar repertoire.