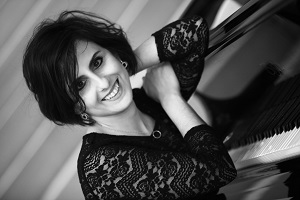 Iranian pianist Layla Ramezan has always sought to create a connection between her Persian origin and the contemporary music which she encounters daily. Sound, phrasing, a particular sense of rhythm and a refined understanding of the "time of musical development" are the foremost qualities of her interpretations. Her musical and pianistic education began in Tehran at the age of 8 with Mostafa-Kamal Poortorab. Having moved to Paris and received a scholarship from Albert Roussel Foundation, she integrated the classes of Jean Micault and Devi Erlih at the Ecole Normale de Musique de Paris Alfred Cortot, where she received a Diplôme de Virtuosité in piano performance and chamber music.
She was later awarded a Diplôme d'Etudes Musicales with distinction, at the Conservatoire National de Saint-Maur des Fossés et de Créteil in France with Jacqueline Bourgès Maunoury and Christophe Bukudjian. Layla went on to gain two Masters, in musical interpretation (concert diploma) and accompaniment, at the Haute Ecole de Musique of Lausanne, Switzerland.
In December 2014, she was invited to give two exceptional recitals in Iran, entitled "100 Years of Iranian Piano Music". For this event, she has brought together almost twenty Iranian composers from all over the world, mixing styles and generations, and including many young creators from contemporary Iran. She is the President and pianist of Matka Contemporary Ensemble based in Geneva with which she organized several cultural projects between Iran and Switzerland: In 2013, she organized a four-month residency at the Maison Baron in Geneva for Karen Keyhani, following the Matka ensemble's commission of a work by this young composer. A concert was organised, entitled "A Contemporary Reading of Persian Music" and bringing together Iranian and French composers.
In 2015 she set up a project comprising new works for small ensemble by Iranian, French, Swiss and American composers with collaboration of Center for Iranian music in Pittsburgh-Carnegie Mellon University. These were premiered in February 2015 at the Carnegie Mellon University in Pittsburgh, then in Geneva, Switzerland. She was invited in May 2016 to play as a soloist with the Tehran Symphonic Orchestra, in December 2016 with Tehran New Music Orchestra and in September 2016 as the member of jury of « 10th National Festival of Youth Music » in Tehran. Layla Ramezan performs regularly in live broadcast on RTS Espace 2.
She prepares the recordings of «100 years of Iranian music for piano» in a collection of four CDs with Label Paraty Production, Harmonia Mundi distribution. Iran is a nation whose musical tradition harks back to ancestral times. To this day, traditional music remains extremely important in the country's culture, alongside different strains of regional folk music. Classical Western music was introduced in the 1900s, mainly through contact with France, and classical Iranian music, despite its recent origin, fascinates by its incredible variety and blending of multiple elements.
The first CD of this collection which will be available on February 2017, is entitled «Composers from the 1950s». The composers on this record, born between 1928 and 1958, perfectly illustrate this specific diversity. Most of them were educated in Europe, mainly in Austria and France, but some also studied in the United States. And, although their musical styles sometimes radically differ from each other, they are all purveyors of a musical tradition which never ceases to reinvent itself.