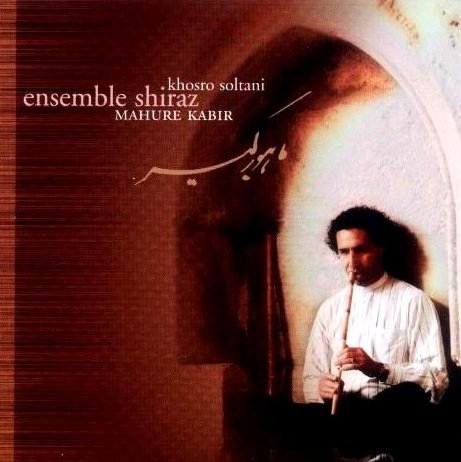 In 1990  an Austria-based Persian musician Khosro Soltani, in cooperation with Hossein Alizadeh, put out an album entitled, Ancient Call A New (Nobang-e Kohan). After many years, a few ancient Persian instruments such as Sorna, Karna, Naghareh,etc. have been used, instruments which have been left out of the circle of Persian classical musical instruments for centuries.
The above album, which is improvisational in the Dastgah-e Shour, was performed by some of the superior Persian (Iranian) musicians and singers, and was well received by Persian music lovers.
14 years later, the second volume of this series, which is limited to improvisation in the Dastgah-e Mahour, has been produced with the title, Mahour the Great.
This CD includes nine tracks entitled, Einleitung (Daramad), Nachtigal (Morgh-e Sahar) [based on a melody by Morteza Neydavoud], Khosravani, Tousi (based on lyrics by the Persian poet Baba Taher), Reng, Bastehnegar, Koroghli-Rak, Naghmeh, Zanguoleh, and Kharazm.
Among interesting points in this collection is the performance of traditional Persian melodies with harp. Known as chang in Persia , this instrument has been widely used in Persian music from ancient times through the Safavid period (1501-1734), but gradually thereafter it has been forgotten in Persia (Iran) but survived and evolved in Europe.
Farzaneh Navai (1956-2004), the alum's harp player, learned to play this instrument at the Tehran Conservatory of Music and the Academy of Music in Vienna. Using this instrument, for many years she studied Persian music under Houshang Zarif (one of the most prominent Persian tar soloists). In this album, for the first in a few hundred years, she has attempted to create a Persian style for playing harp.
Other artists who have contributed to the album are: Ali Akbar Shekarchi (Kamancheh, played like the cello); Majid Derakhshani (Tar, Sitar, Robab); Mohammad Ghavi Ghalam (Tombak), Ali Reza Ghorbani and Afsaneh Rasai (singers).
Composer and arranger, player of Sorna and Karna, Khosro Soltani was born in Tehran in 1953 and, upon completion of his studies in playing the bassoon at the Tehran Conservatory of Music and the Vienna Music Academy, he accompanied the Tehran Symphony Orchestra for some time. After immigrating to Austria in 1981, he formed the Shiraz Ensemble in order to preserve and promote Persian (Iranian) music in Europe. In addition to performing various concerts in Persian and Western classical music, he has been occupied with teaching the bassoon in a few musical academies in Austria and Switzerland.
This article was first published in 2004 on payvand.com