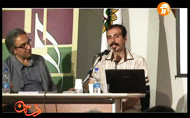 Simorgh (Simorq) Orchestra was founded by the renowned Iranian composer, Hamid Motebassem, in 2011. Simorgh Orchestra is the largest orchestra featuring Iranian national instruments. Although the orchestra established by Master Hossein Dehlavi, the great Iranian composer, in 1993 was larger than Simorgh Orchestra, it only featured the Iranian plucked string instruments unlike the latter one. The first album which was recorded by the Orchestra, conducted under Motebassem's baton, was his Simorq based on Zal story from Shahnameh by Ferdowsi, the great Iranian poet.
The orchestra performed several times both in Iran and Europe led by Mohammad Reza Darvishi, Hamid Motebassem and Hooman Khalatbari with Homayoun Shajarian as the soloist singer.
The third session of Naghd-e Naghmeh (Naghmeh Criticism) series which was held in Andished Cultural Center on September, 04, 2012 was dedicated to Simorgh Album.
Five critics, Peyman Soltani, Sadjad Pourghanad, Abdolhossein Mokhtabad, Arvin Sedaghat Kish and Kamyar Salavati were invited by Abolhassan Mokhtabad to participate as the session's critics.
Siavash Sahb Nasagh who was supposed to attend the session did not appear due to the reasons mentioned in a letter he had sent to the session moderator, Abolhasan Mokhtabad, who read it at the session's end.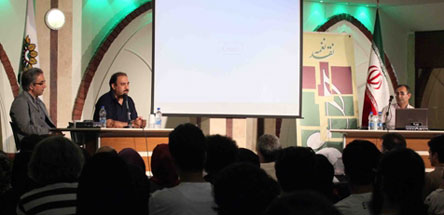 The first critic to make his remarks on the album was Peyman Soltani who stated that some Iranian musicians tried to make the Iranian music polyphonic through crossing horizontal lines. Hamid Motebassem is one of them the result of whose attempts in this connection we heard in albums such as "Bamdad" and "Bouye Norouz".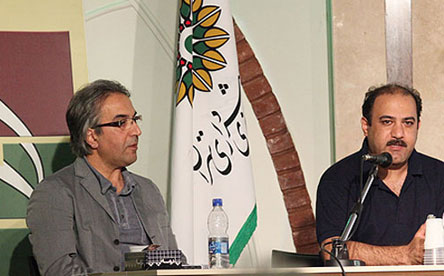 Motebassem, however, commented that after all these years and despite the effort made by musicians ranging from Colonel Alinaghi Vaziri to Morteza Hannaneh for making the Iranian music polyphonic, we still do not have a method for polyphony. So we have to experience it on our own, that is, we achieve it by combining Iranian musical modes.
Then, Abolhassan Mokhtabad, the moderator, asked Motebassem: how does the fact that you play Iranian instruments affect your composition?
Motebassem: I started composition based on Iranian instruments and came to know their problems, capabilities and techniques through experience. So if I write for Iranian instruments, it is in accordance with those instruments.
Sadjad Porghanad, instrumentalist and opera singer, was the second critic to voice his views:
Faramarz Payvar set up an orchestra with a special combination of Iranian instruments which in the melodic aspect included both the  bowed string instruments and plucked string instruments. Later, Hossein Dehlavi more seriously proposed a larger orchestra with only plucked string instruments as he was dissatisfied with the many acoustic problems of the bowed string instruments. So he suggested a combination of plucked string instruments for performing Iranian music with specific standards. Simorgh Orchestra resembles neither Payvar's nor Dehlavi's orchestras. It actually is a combination of available Iranian bowed string instruments, plucked string instruments and other Iranian instruments which has a long way to go before it reaches a desired point. We were supposed to conduct a research in collaboration with Reza Ziaee, instrument maker and Shahin Mohajeri, acoustician on Simorgh Orchestra instruments so that I could attend this session with the graphs which were prepared as the result of this research. But unfortunately this session was held much earlier than we expected.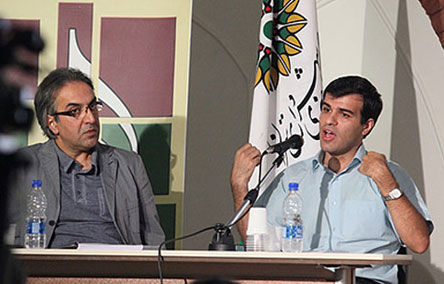 Therefore, I can only point to some of the technical problems of Iranian orchestra instruments.
Sadjad Pourghannad further mentioned some of the acoustic problems of the Simorgh Orchestra and suggested that with the collaboration of educated instrument makers and acousticians familiar with music an instrument-making workshop be established besides Simorgh Orchestra.
Regarding Homayoun Shajarian's singing, Pourghanad added that our experience with him in Rumi Opera proved that despite the fact that Homayoun Shajarian draws on Iranian singing technique and style, he also has a strong voice. However, it is possible that if Simorgh is sung by another singer with the Iranian style, the singer's voice would not go beyond the orchestra.
Seyed Abdolhossein Mokhtabad, the singer, was the third speaker to go on the stage. Regarding the album he commented that composing on several ten-line poems with identical meter is very difficult and requires the composer to organize the musical contrasts and similarities.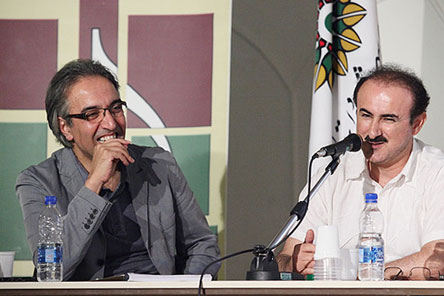 Mentioning Homayoun Shajarian's role in this project, he added that Hamid Motebassem along with Homayoun Shajarian have created a work which is truly Iranian with an Iranian identity. They have succeeded in creating an Iranian dramatic work; however, it might have been better if there were two singers involved in the project as they could enhance the dramatic effects of this work.
Arvin Sedaghatkish, another critic, stated that: I will briefly talk about the technical issues and explain, firstly, why these problems occur and, secondly, the solution Motebassem could find and thirdly, the ones he has chosen. He added that Iranian music is mostly based on lyrical poems which are less narrative and in which every line is self-sufficient as far as the meaning is concerned. Even the composer can omit one or some of the lines without any damages to the meaning of the poem while in Shahnameh the poems are narrative so there is little possibility for ellipsis. Moreover, the meters are identical which makes the composer's job more difficult.
The last critic to voice his views about this album was Kamyar Salavati: in criticizing Simorgh I kept in mind two important points: the poem and the orchestration both of which should simultaneously exist. Another valuable point in this regard is the effort made by the composer in creating a musical project on this level under the current circumstances. Salavati mentioned the fact that the whole work has been sung by one singer and added that this fact is reminiscent of Naqqāli (Iranian dramatic story-telling) which is an old tradition in the Iranian music.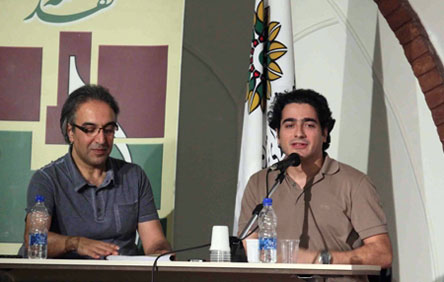 At the end of the session, the singer, Homayoun Shajarian, was also invited on stage and mentioned in response to Sadjad Pourghanad that Iranian singers can sing with a higher volume of voice but this is not in harmony with the spirit of the Iranian music and singing; moreover, the techniques are totally different.
The session ended with Abolhassan Mokhtabad's reading of Kiavash Sahebnasagh's letter.