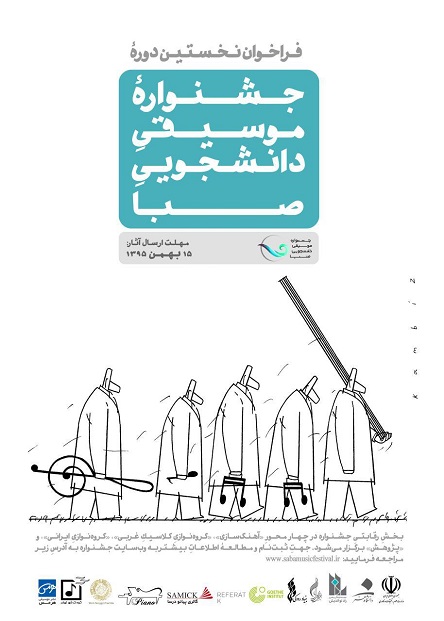 Preparations for Saba Student Music Festival started in the summer of 2016; the Student Music Festival will be held annually by the students of music at Arts University. The first part of the closing ceremony of the Festival was dedicated to the celebration of the life, work and strives by Maestro Hossein Dehlavi to upgrade the level of music as an academic discipline. The name of the award-winning students and ensembles were announced at the second part of the ceremony.
Mohammad Hadi Majidi, the Festival Secretary, mentioned that this novice festival was held in two main fields which were competitive and non-competitive. The competitive part included categories such as: composing, ensemble performance of western classical music, ensemble performance of Iranian classical music and music research. The composing section contained two subcategories: specialized composing for choir and specialized composing for classical plucked instrument ensemble.
The ensemble performance of western classical music covered the performances of the works of classical music repertory for trios, quartets and quintets; and the Iranian part included the ensemble performance of works by great Iranian music maestros by ensembles with more than five members. Mr. Majidi also added that for the first time in a music festival, an independent part has been dedicated to music research.
The young Secretary of the Festival expressed hope that being Iran's only student music festival, the Festival will be the pioneer of effective and sustainable projects engaging university students. Majidi appreciated Mr. Hamid Reza Dibazar, Head of the Faculty of Music, Vice Presidency for Cultural Affairs of Arts University, and the Head of the Composing Department, Mr. Mohammad Reza Tafazzoli with whose encouraging and continued collaboration made the organization of this Festival a success.
The Festival Jury featured researchers and famous artists Hooman Asaadi, Mohammad Saeid Sharifian, Ardeshir Kamkar, Azin Movahed and Nader Mashayekhi.
The Festival Secretary also announced that, in addition to pecuniary prizes, the prize-winning compositions will be performed by Tehran City Choir and Percussion Ensemble of Tehran.
The Saba Student Music Festival was held in early February 2017 under the supervision of Arts University and with the cooperation of cultural institutes such as Rad Noandish and the Hermes Press.