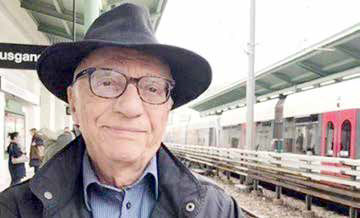 Translated by Mahboube Khalvati
Khosrow Djafarzadeh, musicologist and architect, who was also one of the main authors of HarmonyTalk journal passed away on 15 July 2019.
Born in 1941 in Hamedan, Iran, Djafarzadeh finished his secondary studies in Iran and moved to Vienna, Austria to study architecture. Even though he learnt to play violin at the age of 12, in Europe he devoted himself to architecture and the study of Europe's history, culture and civilization.
One of his early writings entitled "experimental theatre in Vienna's house of artists" which concentrated on the European culture and civilization was published in 1975. In the same year, the Iranian musician, Houshang Zarif visited Vienna to introduce the Iranian music to Europeans when Djafarzadeh obtain the opportunity to meet Zarif. Seizing this opportunity, Djafarzadeh managed to learn to play Tar under the supervision of one of the most virtuoso Iranian Tar players. Meanwhile he felt the urge to study about Iran's history and culture concentrating on music history.
Amidst these developments one cannot ignore the role his wife, Professor Forough Karimi from Vienna Academy of Fine Arts played.
At the same time, Djafarzadeh established the Society of Iranian Artists in Vienna and published a quarterly entitled "Vienna's souvenir" (Rahavard Vien) and staged musical performances with different ensembles including Shiraz Ensemble. Society of Iranian Artists in Vienna organized a variety of cultural and artistic programs for Iranian artists, and these activities led Jafarzadeh became familiar with musicians including Mohammad Reza Shajarian, Hossein Alizadeh, Mohammad Reza Lotfi, Shahram Nazeri, Parviz Meshkatian, Dariush Talaie, Aliakbar Shekarchi, Kayhan Kalhor and Arshad Tahmasebi.
Djafarzadeh's main academic and educational background was in architecture, and music had always been his second favorite field, though today the value of his work in music is no less than the value of his architectural pursuits. For the past several years, Djafarzadeh had been working on "vulgarity" in the scientific discourse of Iranian music. He argues that the lack of a scientific language in the discourse of the Iranian music has been the main reason behind lack of consensus among theorists of the field and the inefficiency of conventional theories of the Iranian music.
In 2019, the second edition of Djafarzadeh's first book "Iranian-music"-ology was published by Art of Music publication. The research consists of three chapters namely "systems of sounds in music", "metre and rhythm in the Iranian music" and "performance of the Iranian music" which feature interesting and original research on the Iranian music. In "systems of sounds in music", Djafarzadeh proposes a new approach for theorizing Iranian music by analyzing modal "gousheh"s in Radif instead of introducing all the goushehs in the Iranian Radif.
Djafarzadeh goes even further than the current established Iranian modes available in the radif and introduces "combined mughams" (modes) introduces new modes by bringing various examples of combination of different modes of folk music, Iranian music and even Turkish and Arabic music.